Russian exchange students popularize classic American literature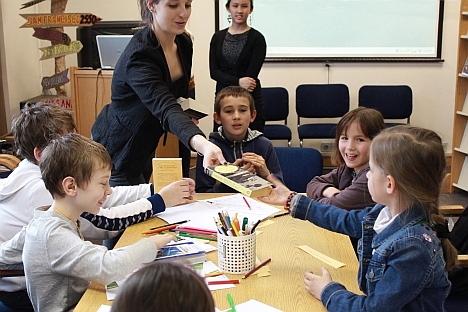 Global UGRAD alumna Ekaterina Pshenitsyna giving a small present to the most active participants of the AMC Teenagers' Club. Source: RBTH / Pavel Koshkin
The alumni of Global UGRAD exchange program made a presentation about World Book Day in the American Center in Moscow (AMC) on April 27 to encourage Russian children and teenagers to read more American classical literature and strengthen bilateral ties between two countries.
In honor of World Book Day, which is commemorated by UNESCO every year on April 23, the alumni of Global UGRAD exchange program took the floor at the American Center in Moscow (AMC) on April 27 to encourage Russian children and teenagers to read more classic American books.
The presentation took place within the framework of the AMC Teenagers' Club, a monthly event that brings together Russian young people interested in American culture and U.S.-Russia relations.
Margarita Bondareva, a volunteer at the American Center who is also one of the organizers of the Teenagers' Club and an alumna of the U.S. government-sponsored Flex exchange program, said the club usually "invites Russian schoolchildren and teenagers to participate in different cultural events such as a Halloween celebration or other American holidays."
"Children are used to having fun in our club, so we try to diversify our programs as frequently as possible," she said. "For example, we conducted a Vampire's Day last Halloween and presented American authors who wrote books about vampires and watched some films based on these books. Cowboys' Day was another event of our club that was also well-received by Russian teens."
This time the club's organizers hoped its celebration of World Book Day would help spread cultural and literary awareness.
Global UGRAD alumna Ekaterina Pshenitsyna, gave a presentation about the importance of active reading and an impact it may have on developing personality, improving interpersonal relations and strengthening bilateral cultural ties between countries.
She talked about several American authors, including Mark Twain, Ray Bradbury, and Ernest Hemingway and invited other speakers to share their experience.
"Such events can motivate children and students for participation in educational exchange programs which are aimed at developing bilateral relations and mutual understanding," said Bayrta Nadbitova, an IREX program coordinator and one of the organizers of the event.
"It will give them a unique opportunity to receive good professional knowledge and skills which will help them in their future life," she explains. "The more people know of such opportunities the more of them will be interested in the participation in different programs. Such interest and future knowledge implementation will show the importance to keep such useful programs in future."
I was also invited to take the floor in the AMC as an alumnus of the Global UGRAD exchange program. For me, it was very gratifying to share my experience with children and tell them what crucial role books play in contradicting stereotypes, fostering "soft power" and inspiring people.
The more I listened to my peers, the more questions preoccupied me. In particular, I wondered if Russia's cultural centers organized such events in the U.S. to popularize Russian literature. Do American exchange students who visited Russia appear in these centers tell about their favorite Russian writers and importance of soft power? Does the Russian government encourage them to organize such events?
For such events to occur will require more active involvement of both authorities and ordinary people.
Egor Kryukov, 14, from the Moscow Region town of Korolev, was one of the attendees of the World Book Day program.
"I like reading a great deal and the day may definitely may enrich my experience," he said, adding: "My mother is an English teacher: She recommend this club and encouraged me to visit the American center."
Kryukov said the AMC Teenagers' club gives him an opportunity to combine fun and learning.
"I can improve my English and learn more about the American culture and cross points between Russia and the U.S.," he said.
Global UGRAD alumna Ekaterina Pshenitsyna taking the floor in the AMC Teenagers' Club. Source: RBTH
"I think that this event had a success," Nadbitova said. "The World Book Day is a very important day for encouraging children and teenagers for reading. And I think the presentation was informative and interesting. The event had a great impact on some of children definitely as they tried for follow it carefully and participated in discussion. All of the participants were very happy to receive books as presents, and it will motivate them for reading too. That was our main goal."
All rights reserved by Rossiyskaya Gazeta.