Tread softly on shale gas dreams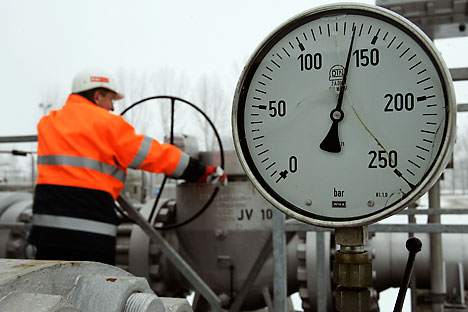 The sourcing of fresh LNG supplies at competitive prices from the US will pose a challenge for the Indians due to the intensifying competition among Asian companies. Source: AP
It is perplexing that such extravagant hype has been given by Indian officials to the conditional and partial relaxation by the United States of export restrictions on the domestically produced liquefied natural gas [LNG] to countries that do not have a free trade agreement with it.
India is not a direct beneficiary of the decision announced in Washington on Friday, but hopefully the US move could open up one more potential source of LNG supplies – in addition to Russia or Qatar. And when that happens, Indian companies – Reliance in particular – could get involved in the lucrative import-export trade in LNG. Yet, Indian officials have made the astounding claim that "on the assumption of DoE [US Government] approvals, we [New Delhi] are already looking at a scenario… of LNG exports from US to India, which is nearly 75% of our current yearly imports of natural gas."
Indeed, when that day arrives, it "will bring significant geopolitical and strategic advantages" to the two countries. The hype implies that India has scored a major diplomatic victory and a celebration of the bubbly is due. True, the price of the LNG from the US is at a record low currently, but then, the surge in shale gas production coupled with the lower demand has created oversupply and record-high gas inventories, which has compelled the price of gas at the Henry Hub which used to be US$8.8 per mmbtu in 2008 to drop down to around US$2.9 (as of figures available in July last year). But make no mistake that the US is a capitalist country and it is not in the business of exporting goods at a loss for earning goodwill in Asia.
To be sure, the price of its LNG will rise when either the domestic or the overseas demands (or both) go up. The natural gas prices in the US have diverged from crude oil prices and gas prices index in other parts of the world, which has led to a an increase at present in the oil-to-gas price ratio, but this needn't be the case in the future. Energy experts anticipate that the gas prices under new LNG supply contracts are likely to remain high, which is only to be expected given the forecast of high crude oil prices.
Suffice to say, it is futile at this point to calculate "savings" for the Indian exchequer through LNG import from the US or to dream about "cheaper electricity, lower subsidies on urea and other nitrogenous fertilizers, and a more economical fuel for a variety of industrial and consumptive has usages."
The heart of the matter is that the US move to free LNG exports to the non-FTA countries is not an "India-centric" move. Let us say, India could be a "stakeholder." Washington's decision takes into account a variety of factors, which include the persisting demands of competing countries such as China and Japan whose companies have been aggressively participating in shale gas activities in the US through stake purchases and forming joint ventures.
Indeed, the sourcing of fresh LNG supplies at competitive prices from the US will pose a challenge for the Indians due to the intensifying competition among Asian companies – especially, Japan's insatiable appetite for LNG for power generation (following the shutdown of most of its nuclear power plants) and China's gigantic plans to augment LNG imports.
Alas, the hype has had some resonance within India already. A notion has formed that shale gas is the silver bullet that will resolve India's energy crisis. Many Indians have concluded that with US technology, their country can emulate America's stupendous shale gas revolution. They look down upon the need of gas pipelines from Iran or Turkmenistan. But this is somewhat reminiscent of the bombastic claim five years ago that the India-US nuclear deal of 2008 would lift each and every Indian hamlet from darkness with an avalanche of electricity.
A sense of proportions is called for. Of course, like nuclear power generation, shale gas operations have also become economically viable, thanks to recent technological advancements in hydraulic fracturing and horizontal drilling. But geological characteristics of shale gas plays vary across regions and the exact replication of US technologies and techniques may not be feasible in India.
Besides, even assuming mastery over the technological knowhow, as an expert opinion in the Forbes India magazine pointed out recently, "Where India will be challenged is in its ability to manage resources (e.g., water, for which there is a distribution problem even for human consumption) and to design regulations for sustainable development (e.g., investment incentives for developing the required supply chain and capex; preventing ground water pollution; compensating land-owners which will be critical for drilling horizontal wells in large tracts of populated land, etc.) These are complex problems and in addition to a shale gas policy (which in itself will elicit debate on production sharing/ royalty, etc.) India will need to create/ modify other policies plus tighten oversight."
The head of India's ONGC Sudhir Vasudeva pointed out recently that on the land usages front, shale gas requires large number of wells to be drilled, which of course involves extensive use of land. But the population density in India is about 370 per square kilometer, as compared to 33.7 in the US and in some regions like West Bengal it is as high as 1035. Arable land is 18% of the landmass in the US, whereas it is around 49% in India. And drinking water and irrigation water is in scarcity in India. The renewable water resources in India amount to 1908 cubic Km whereas it is 3069 in the US. Clearly, India needs to carefully balance the economic benefits of its shale gas industry with environmental and social issues.
So, why such extravagant hype? Energy security is serious business. India needs gas, natural and shale gas, in LNG form or through pipelines, not only from the US but also from Russia, Qatar, Iran or Australia – and even from the Arctic or Mars if only that were possible. It is the economy, Stupid!
The hype over America's LNG exports is deliberate, injecting some swagger into the upcoming foreign-minister level US-Indian Strategic Dialogue in Delhi, which, if all goes well, could set the tempo for President Barack Obama's "chance in" on Indian Prime Minister Manmohan Singh when the latter visits New York to attend the UN General Assembly session in late September. The outgoing Indian leadership may get "locked in" and come under compulsion to reciprocate in some other areas in a time-bound manner before September.
All rights reserved by Rossiyskaya Gazeta.