Pyotr Gruzinsky. Maslenitsa (1889). Source: wikipedia.org
Troika is usually a Russian sleigh pulled by three horses, harnessed in manner, invented in the 17th century, which allowed it to travel at an unprecedented speed for that time in the snowy barrens of the country.
The Flying Troika is the title of one of the books penned by the legendary Indian diplomat and New Delhi's Ambassador to the Soviet Union in 1952-1961 - Kumara Padmanabha Sivasankara Menon, popularly known as K.P.S. Menon.
K.P.S. Menon was the first Indian diplomat to have extensively travelled across the vast Soviet Union, which to the Indian mindset was and remains the synonym of Russia. He shared his discovery of Russia with the Indian readers in his books 'The Russian Panorama' and 'The Flying Troika'. It was he who introduced Indians to the richness of the Russian soul and unfathomed intellectual depth and vast human potential of Russia.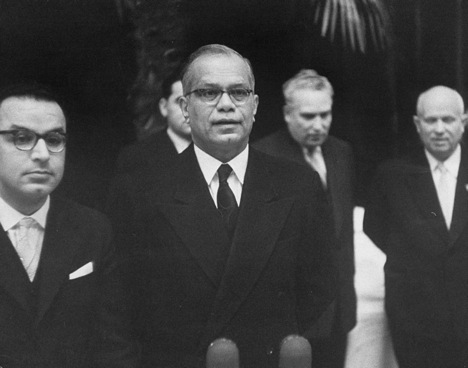 K.P.S. Menon (C), India's Ambassador to the USSR in 1952-1961. Source: Getty Images/Photobank
Forty-five years ago before coming to Moscow for the first time, I was lucky to meet K.P.S. Menon at his Hauz Khas residence in New Delhi along with a group of students of erstwhile Institute of Russian Studies (now Centre of Russian Studies, JNU) selected for a 5-year degree course at Moscow State University under the inter-governmental Teachers Training Programme. Menon was the Patron of our institute, set up in New Delhi with the Soviet assistance.
His advice to look for commonality in a new land with an open mind and soul, never failed me. My Russian friends never let me feel that I was away from home. This difference I could distinctly feel in Russia proper and Soviet Uzbekistan, where during nine years of a stint with Radio Tashkent I was invariably treated as a highly esteemed guest.
Troika is usually a Russian sleigh pulled by three horses, harnessed in manner invented, in the 17th century, which allowed it to travel at the speed of 45-50 kilometres per hour, an unprecedented speed for that time in the snowy barrens of the vast country. Initially used as a means to carry important officials, couriers with mail and dispatches, hundreds and thousands of troikas were flying to and from the Imperial capital to the distant corners of expanding Russian Empire before the invention of telegraph and telephones.
By the 18th century the troika had become Russia's cultural icon, a symbol of a dynamically developing empire expanding thousands of miles towards the Pacific Coast in the east and the warmer seas in the south.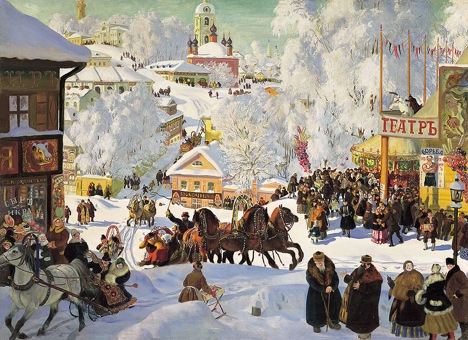 Boris Kustodiyev. Maslenitsa (1919). Source: wikipedia.org
Famous Russian writer Nikolai Gogol had compared it with a bird making 'Troika-bird' a cultural icon of Russian literature in his immortal novel Dead Souls.
Gogol even compares Russia with Troika:
"Oh troika, winged troika, tell me who invented you? Surely, nowhere but among a nimble nation could you have been born in a country which has taken itself in earnest and has evenly spread far and wide over half of the globe, so that once you start counting the milestones you may count on till a speckled haze dances before your eyes... Rus, are you not similar in your headlong motion to one of those nimble troikas that none can overtake? The flying road turns into smoke under you, bridges thunder and pass, all fall back and is left behind!... And what does this awesome motion mean? What is the passing strange steeds! Has the whirlwind a home in your manes?... Rus, whither are you speeding to? Answer me. No answer. The middle bell trills out in a dream its liquid soliloquy; the roaring air is torn to pieces and becomes wind; all things on earth fly by and other nations and states gaze askance as they step aside and give her the right of way."
The Flying Troika blog is about my 50 years of obsession with Russia, which started in 1963, when I first visited the Soviet Cultural Centre at Travancore House in New Delhi.
After coverage of current affairs in almost four decades of career in journalism, I felt the need to share with readers the kaleidoscopic events left beyond the headlines, my personal experience of Soviet Union and attempt out of the box analyses and commentaries of the Russian events.
So, welcome on board the Flying Troika! Off we go!!!
All rights reserved by Rossiyskaya Gazeta.