Russia to support local IT companies on state level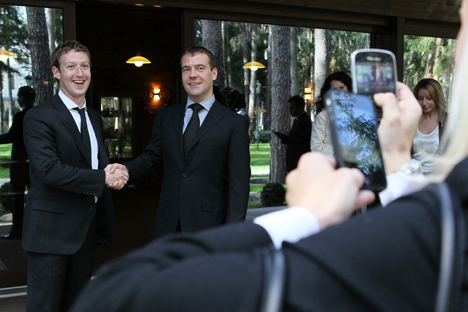 Dmitry Medvedev (R) is interested in innovative products and services. Last year he met with Facebook founder, Mark Zuckerberg in Moscow. Source: ITAR-TASS
According to Dmitri Medvedev's plan, state-owned companies should increase their usage of Russian innovative products and services.
State support:
Prime Minister Dmitry Medvedev approved a plan that should facilitate the access of Russian IT companies to the public procurement of innovative products and services. Such measures should increase the presence of Russian suppliers in state companies.
Medvedev signed a "roadmap" to expand the access of small and medium-sized businesses to infrastructure monopolies and companies with state participation.
According to the plan, the "roadmap" aims at increasing the purchase of high-tech goods and services from small and medium-sized enterprises by state-owned companies compared from 100% registered in 2013 to 300% by 2018. Read more (in Russian)
Investment:
Flocktory, Russia's leading company in social referral marketing for online retailers, has announced on June 5 the completion of a $1.5M Series A financing round with Digital Venture Partners.
This should allow Flocktory to continue working on product development and expand the team's effort towards the acceleration of business development. Source: Flocktory
Grants:
Wikidata, the online database of structured data from Wikipedia articles, received a grant of 150,000 euro from the Russian company "Yandex". The Wikidata project was launched on October 30, 2012 by Wikimedia Deutschland.
Financial support for the project has already been provided by funds such as the Allen Institute for Artificial Intelligence, the Gordon and Betty Moore Foundation and Google. The total amount of grants received by the project currently amounts to 1.3 million euros. Read more (in Russian)
All rights reserved by Rossiyskaya Gazeta.