Perceptions of freedom in Russia and India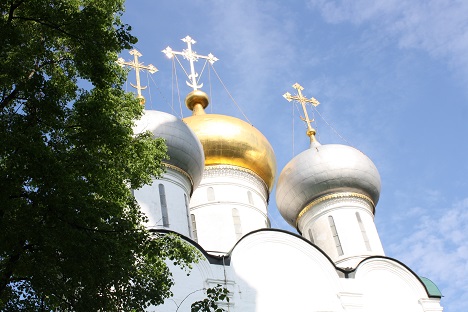 Many Indians find a lot of personal freedom in Russia. Source: Personal archive
There is a genuine craving for freedom in both countries although Russians and Indians seem to have different ideas of the very concept.
"You have so much freedom in India," says a disgruntled former Russian civil servant, who quit government service after a new law forced him to choose between his modest cottage in France and service to the nation.
Did his idea of freedom just mean the right to have an offshore bank account and own property abroad? Apparently not… The man spent some time in India on a deputation and appreciated the fact that people and the media could freely voice their displeasure at Manmohan Singh and Sonia Gandhi. "That's real freedom," he said. When I gently reminded him that those people attending opposition rallies in Moscow aren't exactly being sent to gulags in Magadan, he insisted that safety of numbers protected them, but there was little room for dissent or questioning the government in the country. The former bureaucrat said media outlets that questioned the regime would pay a price.
Although religious and "mildly homophobic" as he put it, he is against the gay propaganda law and the law which punishes those that offend the feelings of believers. No attempt to remind him that India, until very recently, had draconian laws against homosexuality would convince him that the world's largest democracy isn't some torch-bearer of freedom and human rights. When it comes to offending the feelings of believers, the Indian authorities wouldn't have had time to punish someone who performed a "Pussy Riot" kind of stunt in a famous temple or mosque. He or she would have probably been lynched before the police reached the spot.
Another Russian friend complained about the fact that intelligence and security officers questioned her on arrival when she landed in Chukotka, a distant region in the extreme end of Russia's Far East. "It's my country and I still need permission and have to deal with this non sense," she grumbled and added that she has been to all four corners of India without any hassles. I am convinced that she didn't go to the eastern corner of India, particularly the northeastern states, where even Indians, let alone foreigners, need special permits to enter.
An Indian doctor who spent 8 years in Smolensk and St Petersburg studying medicine feels he had much more freedom in Russia than he does in his own country. He described the vast open spaces that one could see just a few kilometres outside big cities. The native of Pune reminisces about the days when no one interfered in his life and how Russia just let him be. When I asked him whether living away from his hometown in India would have had the same effect, his answer was a vehement no. "If it isn't annoying relatives, it's society and conservative people that mind your business," he said, adding how much he relished his time with "non-judgemental" Russian friends. The Russian ex-civil servant would argue that it is easy enough to find drinking buddies in Russia, but vivid and genuine friendships are rare.
I can empathise with expats who find a great degree of personal freedom in Russia. It's a dichotomy that a place that apparently lacks official freedom provides one with so much personal freedom.
Girls from Delhi and other conservative cities in India are happy enough to walk around in mini-skirts in the summer in Russian cities and not always being on guard. There is a disproportionately less chance of getting groped or being judged by society for wearing "skimpy" clothes. Of course, the Mumbai suburb of Bandra offers the same freedom.
Leaving politics, bureaucracy and an overbearing society aside, I think freedom is there for the taking in both Russia and India. Yet, how many of us in either country actually know what real freedom is? The great Russian philosopher Nicholai Berdyaev had this to say about freedom: "In reality, freedom is aristocratic, not democratic. With sorrow we must recognise the fact that freedom is dear only to those men who think creatively. It is not very necessary to those who do not value thinking." He continues, "In the so-called democracies, based on the principle of popular sovereignty, a considerable proportion of the people are those who have not yet become conscious of themselves as free beings, bearing within themselves the dignity of freedom. Education to freedom is something still ahead of us, and this will not be achieved in a hurry."
Such prophetic words have as much universal relevance in 2013 as they did a hundred years ago.
All rights reserved by Rossiyskaya Gazeta.