Yandex gives away Lamborghini, Russian startups Gvidi and Odnoklassniki pave way to foreign users' hearts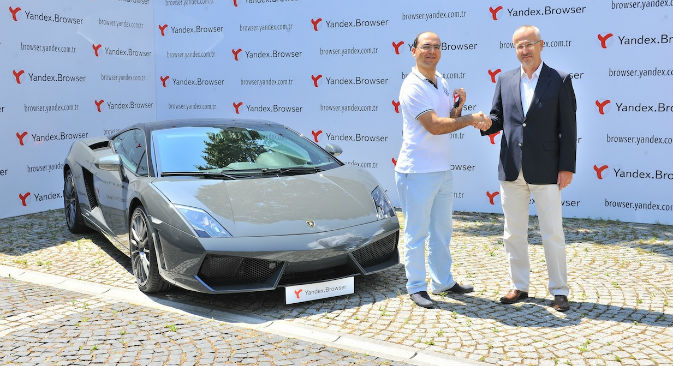 Erkan Kiyak from Gaziantep, Turkey, won a Lamborghini Gallardo LP560-4 Coupe during Yandex's promotional campaign (Photo: Yandex)
Yandex's promotional campaign in Turkey awards a Lamborghini to a lucky contestant, Russian restaurant app Gvidi launches its U.S. version and social network Odnoklassiki releases its English-language version
Lucky on wheels
A Turkish user recently won a brand new Lamborghini, courtesy of the Russian online company Yandex. Erkan Kiyak from Gaziantep, Turkey, participated in the local promotional campaign for the new Yandex.Browser and received a Lamborghini Gallardo LP560-4 Coupe worth $200 thousand as a prize. The happy winner, however, had to pay almost $46 thousand in taxes. Read more in Russian on startupafisha.ru
Better taste
As reported by Techcrunch, Russian restaurant app Gvidi launched its US version. The app, defined by its creators the "intelligent restaurant guide" was featured by RBTH in the Summer edition of Russian Startup Rating released earlier in June. According to Gvidi representatives, the app's database now include almost 1.2 billion places in the U.S. Read the full story here and download the app from the App Store - we look forward to hearing what you think of it.
Russian classmates venture abroad
Russian social network "Odnoklassniki" is now available in English. "Odnoklassniki" (classmates) is the second largest Russian social network, with more than 25 billion monthly users, behind leading platform VKontakte, which count more than 29 billion users per month.
Read more on East-West-Digital News
Monitoring traffic jams
According to a report by East-West Digital news, the Moscow Seed Fund invested $240.000 in local traffic monitoring service Probki Iz Okna (traffic jams from the window). The concept behind the project is the creation of a network of webcams on users' windows to monitor the traffic conditions in Moscow and other Russian cities in real time.
Helping startups grow
MoeDelo, PwC and RVC just launched One2start.ru, an online service to help young start-ups to succeed. East-West Digital News spoke with PwC's Manager for Marketing and Corporate Communications Olesya Kuzminskaya, who was quoted saying: "We helped develop the concept, the 'Startup Roadmap' navigation tool, and a number of materials, from financial model templates to investor presentations and teasers." The service also provides 24 hour consulting service with experts and industry professionals.
Previous posts:
Ostrovok.ru cuts a third of its staff
Russia to support local IT companies on state level
Read more about Russian start-ups
All rights reserved by Rossiyskaya Gazeta.