An open letter to Pochta Rossii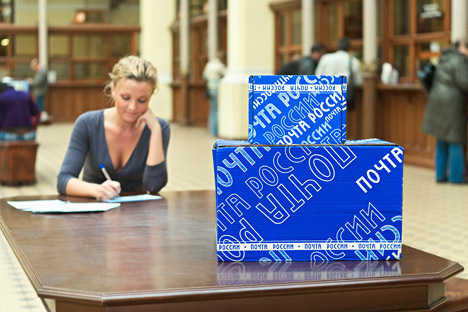 The Russian Post is a product of the Soviet system of public services. Source: Lori / Legion MediaSource: Lori / Legion Media
As the number of undelivered letters and postcards to various addresses in Russia rises, one long-term patron of the Russian postal service appeals for help.
Dear Sir or Madam,
I first started using your services 10 years ago when I was excited to live in what many people called the "end of the world," since the place was just 2 time zones away from the International Date Line. It was a great feeling to send postcards to different countries from an unexplored part of Russia in full knowledge that the intended recipient would get the pictures of the region's beautiful nature even if it took a couple of months. Many a time, it did take around 7 weeks for a postcard from Sakhalin to reach Sri Lanka (quicker than it took Chekhov to reach the tropical paradise from the Russian island, although that was in another century). That was still acceptable though.
It was easy to sing praise of you since you believed in being an equal-opportunities employer. Most of the people that delivered mail to my building were women, as were a majority of the staff at post offices. These employees were trained well-enough to offer a gentle smile in a country not exactly known for its wonderful service culture.
In the first three months of this year, at least 13 administrative cases were filed against the Russian postal service for delays or non-delivery of packages.
My warm feelings for you were amplified when I was told a touching story by a 75-year old grandmother, who was stranded outside a railway station in a small village near Orenburg in the 1950s. Her train arrived late to the village and she faced the prospect of being stuck outside the station all night on a cold and snowy winter night since there was no way to leave the place. Then a postal employee in a red coat, who looked like Ded Moroz or Grandfather Frost, came in a horse carriage and took her to the safety of her mother's house. I am acquainted with the narrator of this story well enough to know that it wasn't a figment of her imagination. Your employees were heroes, legends at one time.
By the time I started using your services, your glory days were long gone. Email started becoming the preferred mode of communication and people already started abandoning hand-written letters. In 2013, I still have a few friends in the vast and enormous country, who love to receive hand-written letters and picture postcards. And for almost ten long years, whatever I sent to these people reached them. Better late than never, I always thought. But now late is actually starting to become never.
I know of your problems when it comes to delivering big packages. There were many articles that mentioned the plight of items that people ordered from abroad and were stuck at post offices and airports. Those articles were full of blame games and excuses and some say that this back-log is because of Russian Customs Service. I am terribly disappointed to inform you that not a single letter or postcard that I have sent to any address in Russia in 2013 has reached the recipient. These people aren't rich and greedy folk, who ordered something expensive from abroad. Just humble people who still feel thrilled to receive a postcard with a picture of the Great Wall of China, the Taj Mahal or the Pyramids… It brings a genuine smile and a sense of happiness when they get an airmail envelope with a hand-written letter, even if it is not written in perfect Russian.
While you sort out your obvious problems with delivery of packages from abroad and other parts of Russia, would you be kind enough to at least fix the basic postal system so that all those people dear to me in different parts of the great country get their postcards and letters? In fact, I am absolutely sure that there are numerous others, total strangers to me, who also love to receive letters and postcards. Do it for them, if not for me.
Sure, there's the telephone, email and Facebook and Vkontakte and Skype and what not to communicate with people in different parts of Russia. If I really need to get in touch with someone in any part of the country, it's easy to do so now. But these things in no way compare to personal letters and postcards. I write this letter to remind you that you still have an important job and with it the power to bring real happiness to many people across the length and breadth of Russia.
We, the enthusiasts of the traditional postal services, need you.
Yours sincerely,
A loyal client
A translated version of this letter has been sent by traditional post to the Pochta Rossii's headquarters in Moscow.
All rights reserved by Rossiyskaya Gazeta.