Apple's new sales record and Russian investments in USA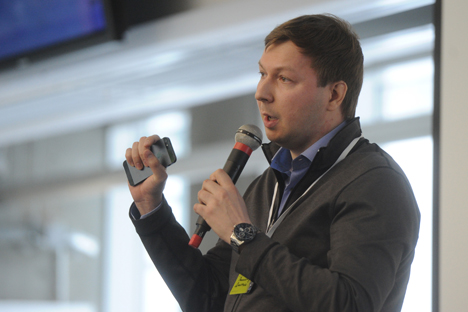 CEO of Russian internet company Mail.ru invests in robotics. Source: ITAR-TASS
Tim Cook rejoices at impressive iPhone sales figures in Russia, meanwhile Russian investors focus on American market backing robots and innovative HR-platforms.
Robotic investments
The Wall Street Journal published an interview with Dmitry Grishin, head of Grishin Robotics, a global investment company with a Russian background. During the interview, Grishin, who is also CEO at Russian internet giant Mail.ru, explained how his interest in robots was born and why it is the right time to invest in hardware start-ups.
Read more on the WSJ
Tim Cook about iPhone sales in Russia: "We are very happy"
Gigaom analyzed how Apple's iPhones sales changed from 2007 till now and quoted company's CEO Tim Cook about iPhone sales in Russia: "If you look at Russian market, over 80 percent of smartphones are sold in retail outside of carrier stores. We sell through a number of national chains there. … Our activations in Russia for iPhone set a record last quarter — our highest quarter ever. We're really happy."
Read more on Gigaom
Russian money for American start-up
Runa Capital backed Californian HR-start-up - online "talent discovery platform" Venturerocket.com with $700.000 with participation of Talent Equity Ventures. EWDN quotes the project: "Our free job postings and 'pay-per-connection' model stand in stark contrast to services like LinkedIn where $50 per month premium job seeker accounts shamelessly promote wealthier job seekers to the top of the applicant piles without necessarily producing any good leads."
Read more on East-West Digital News
Keep your password safe
Nearly 60 per cent of Russian social media users has been attacked by hackers. To a quarter of them it has happened more than once. According the latest report by the local department of international IT-security company Eset, there is still a 35% of careful users that have never lost control of their social media profiles.
Read more on ESET-official blog in Russian
Read more about Russian start-ups
All rights reserved by Rossiyskaya Gazeta.