Moscow without 1000 Trifles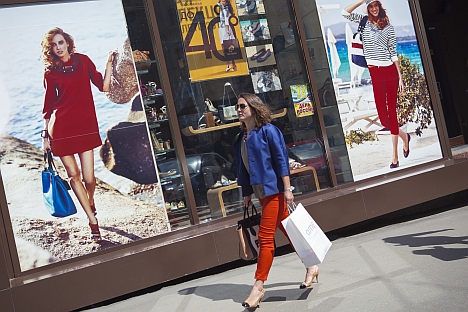 Unlike in the 1960s, Muscovites are now blessed with choice when it comes to shopping. Source: Corbis / FotoSA
A long-term and loyal Indian client laments the closure of one of the Russian capital's most iconic department stores.
Ever since I came to Moscow for the first time 45 years ago, in the times of Soviet-era scarcity of all and everything, there was a place where you could get almost anything for your household and much more.
Situated on the prominent thoroughfare of the capital – Leninsky Prospekt, at Ploshchad Gagarina, by the side of obelisk crowned by the gleaming metallic statue of the first space voyager Yuri Gagarin, the 'Tysyacha Melochei' (1000 Trifles) store was the right place to look for anything scarce. From imported (mostly Indian) detergents and toilet soaps to cleaning wipes and toilet paper rolls (a rare item in Soviet era, when Pravda, cut into neat squares used to serve the purpose), you name a thing from a door handle to DIY instrument, spare part for your domestic appliances, washers for your running taps, you would have gotten it there.
It was a favourite shopping joint for the wives of the Indian and other Third World diplomats and translators working with the Progress Publishers – the biggest publishing house in the world at the time of Soviet collapse.
Even after the post-Soviet market transition and the advent of multitude of shops and stores selling all imaginable and unimaginable (in the Soviet times) goods and items, 'Tysyacha Melochei' was the right place to get some of the solid 'Made in Russia' items indispensable for homes.
So last week, when after failing to buy a trifle for home in different places in my neighbourhood, I finally decided to go to my favourite store. After changing two buses I reached the place. It takes a little walking to reach the store from the bus stop. So in sunny warm weather of Moscow's summer, I was walking with the kind of joy a child feels when he is going to his favourite toy shop.
'Tysyacha Melochei' was situated in the basement and ground floor of a long apartment block, I did not pay much attention to a German shoe shop in the beginning, where there used to be the hardware section of the store. It was a normal phenomenon in post-Soviet Moscow, when many huge old stores sublease parts of the premises to new entities. But, I got the shock of my life when I reached its main gate, with sign of a popular food store chain announcing 'opening shortly'. The 'Tysyacha Melochei' is closed, closed forever! I was stunned, as if someone has stolen something precious from me.
Opened in 1964, the store was a 'must visit' for every guest of Moscow from the remotest corner of the vast Soviet Union. Standing in a long queue for something, you could learn about the geography of the country. I remember, in 1969 I bought my first pressure cooker in this store. There was no queue to buy it as none of the local customers were aware of its use. When we, a group of Indian students, bought them, many asked what it was. When we explained its purpose, immediately there was a long queue at the counter. Many happy moments of buying something useful for home or for taking as a gift for mom to India are associated with this store.
When I asked a Russian journalist friend about the closure of, what one can call the 'cult shop', an 'island of plenty' in the sea of Soviet-era paucity, he sadly told that the owner had died and since 2011 it was closed for renovation. After legal battles among the heirs, the store has gone to new owners, who have decided to change its profile.
Across the service lane, an arcade of new shops – '1000 Trifles Passage' has come up. Yes, they sell similar items for household, but without variety. I could not even find a 6 Volt bulb to replace a fused one in my rechargeable torch. In 'Tysyacha Melochei' I would have certainly found one.
Lena, salesgirl of a kiosk selling mosquito repellents, said: "In the beginning we had lot of customers from all the corners of Moscow, who on finding 'Tysyacha Melochei' has been closed would drop by. But the footfall has sharply dropped this year as the word has gone around about its closure and very few people come to us".
One thing is certain: I will never go there again! It can only be revisited in the memories of Moscow of my youth.
All rights reserved by Rossiyskaya Gazeta.