Technology hampering oral communication among the youth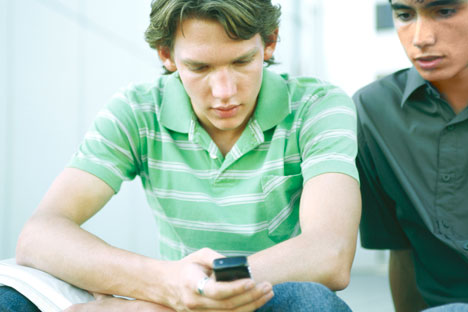 Gadgets seem to be the main mode of communication for young people. Source: Getty images / Fotobank
As the use of modern technology spreads across Russia and India, gadgets become the main means of communication for young people, often at the expense of verbal communication.
A business associate of mine in Moscow writes so well in English that it would be next to impossible for anyone to believe that his language of instruction in school and university was actually Russian and not English. I had been communicating with this well-travelled gentleman for more than 4 months via email and we then became "Facebook" friends before actually meeting in person. From our written communication and his interesting posts on social media, I was sure that he was full of confidence.
When we finally did meet in "real life," I was shocked with how timid he was. His body was shaking as we communicated and his grammar wasn't so perfect anymore and he was stuttering a bit as he spoke to me. Sensing some discomfort, I quickly switched to Russian but the result was the same. There was absolutely no reason for the young man to be intimidated by me. He wasn't answerable to me professionally and our conversation remained quite basic. Was this the same person I had been exchanging emails with for such a long time, I wondered.
India is believed to have more than 800 million mobile phone connections, while Russia is believed to have around 256 million (in a country with a population of around 142 million). The smartphone penetration in both countries is set to grow rapidly in the coming years.
As we went out to a café for coffee and snacks, I began to understand this associate better. He photographed both the pastry and coffee and put a status message on his social media accounts that he was in a meeting. So used to the smartphone was this man that he tended to use it more for communicating than his vocal cords. The man, in his late-twenties, told me that he was petrified of public speaking and that he was far more at ease exchanging text messages than talking on the phone or in person, especially with new acquaintances.
This is a trend that I see more of in urban India and Russia, especially in the 17 to 30 age group. On a recent monsoon hike around Mumbai, I couldn't help but marvel at the beauty of the landscape that the rains brought to the state of Maharashtra. As I was admiring the monsoon greenery, a companion seemed troubled. Was the contrast between the beauty of the hills and the crumbling urban environment that she lived in too much to handle? No. She was getting a 3G signal for her cellular phone was thinking hard of what she should write as her status update from the hill! "What's the fun of being here if all my (500+) friends on Facebook don't know that I am here and seeing this place," she said. This self-proclaimed technology freak, who hoards every single new gadget in the market, has joined a public speaking society since she has major confidence issues. Maybe the instructors should advise her to get off the phone and iPad?
Both in Russia and India, the people who are the loudest on social media are often the quietest in real life. What's disturbing though is the fact that there is so much peer pressure for middle class youngsters in both countries to have and use the latest gadgets that many of them are falling prey to the virtual communication trap. At the end of the day, it's their oral communication and confidence to speak in public that is bound to suffer. A large number of schools in both countries ban mobile phones within their premises. If a parent needs to urgently get to their child, they can call the school. But with middle class Russian and Indian parents hell-bent on spoiling their children, the usage of gadgets as a tool of communication only seems to grow, outside school hours.
India has over 70 million Facebook users, while Vkontakte, Russia's leading social media site has over 40 million users in the country. Many of the youngsters in both countries use these social media sites as a one-step telephone, text-message and email service.
There's a quote doing the rounds on the internet, which has been wrongfully attributed to Albert Einstein: "I fear the day that technology will surpass our human interactions. The world will have a generation of idiots." These words were probably the work of people frustrated by the behavioural patterns of mobile phone users and then attributed to Einstein for some sort of legitimacy. I won't completely disagree with that falsely attributed quote, but it would be harsh to label those with poor inter-personal skills as idiots.
The false quote was probably inspired from something Einstein actually said: "It has become appallingly clear that our technology has surpassed our humanity." The great scientist was actually talking about the atomic bomb when he said that, but then the abuse of communication technology is actually taking its toll on human mental development.
All rights reserved by Rossiyskaya Gazeta.