Confessions of a former hitchhiker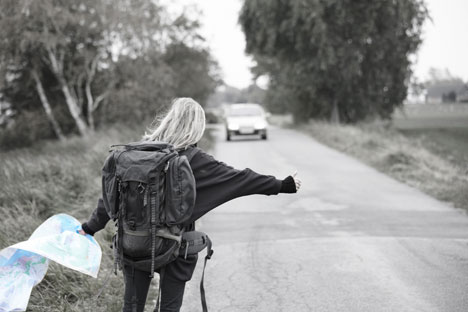 Hitchhiking, though risky, can be a very gratifying experience. Source: Alamy / Legion Media
The thrill of hitchhiking in a vast and enormous country like Russia often outweigh the potential dangers, but it's still important to err on the side of caution.
Hitchhiking or travelling 'avtostop' as it's called in Russian comes with its share of rewards and dangers. When I first arrived in Russia, I met a person who managed to hitchhike all the way from Vladivostok to Odessa, Ukraine (!!) His 10,000-km plus journey, which had a few diversions, was epic and inspiring, but the cautious Indian in me thought that I would never indulge in such risky behaviour in a part of the world where I could be spotted from miles away.
Fate would however intervene half a year later. I had an expensive non-refundable ticket from Moscow for a 9 hour cross-country flight. The problem was that I wasn't in the Russian capital the evening before my departure. Instead I happened to be in the outskirts of the lovely city of Voronezh, which was an overnight train journey to Moscow. Poor planning ensured that a friend and I didn't have train tickets and for some reason even the buses were full. This was 10 years ago and a time when one could only buy air tickets from travel agents, many of which were closed that evening. What were the options?
My adventurous friend suggested we hitchhike to Moscow. I was sceptical, but he insisted that the fact that there were two of us, made it safer in some way. This friend had common Slavic features and decided to try to stop a car alone, but was completely ignored. When I made an attempt, more cars stopped as curious motorists were wondering where this strange-looking person wanted to go. For over 30 minutes, we didn't find anyone heading far enough towards Moscow and then suddenly, an empty ambulance stopped and took us all the way to the small town of Michurinsk. The ambulance driver turned out to be a huge fan of Hindi cinema.
The conversation got friendlier as we travelled the 160-odd kilometres to Michurinsk. We were offered some space on the floor and sleeping bags for the night. Our flight to Moscow was the next evening, so we figured we couldn't turn down such an act of generosity. Jhenya, the ambulance driver, with whom we cultivated a friendship that is strong ten years later, showed us his collection of Raj Kapoor photos. He had a refined taste in Lata Mangeshkar and Kishore Kumar songs. Although he didn't understand a word, the songs reminded him of his youth and the days when he would wait for days to watch an Indian film. After our last toast to Indo-Russian brotherhood at 4 am, we managed to get some sleep, still uncomfortably far from Moscow.
Jhenya woke us up three hours later and took us to one of his traffic police friends and explained our predicament. The cop managed to stop a car that was heading to Ryazan, which was 236 kilometres away. The driver seemed to know the policeman and gave us a ride, but seemed to be in an incredible hurry. He drove at a speed that could have earned him a place in a Formula 1 race! Unlike Jhenya, this man did not have a word to say to us, but the music he played made us more nervous than the speed he drove at. Many of the songs were about prison and the nostalgia of being behind bars! We were offered beer while riding with the maniac of a driver but then the effects of Jhenya's Indo-Russian vodka celebration were still too clear for us to want a beer. We were dropped off at the Ryazan railway station and thankful to still be alive, given the speed our prison-loving friend was driving at. The adventure ended with a ride on a commuter electric train to Moscow's Kazansky railway station, which we reached with enough time left to get to the Domodedovo airport.
Hitchhiking became a passion for me over the next few years in Russia. I managed to hitch rides and make friends in places as diverse as the internal republic of Buryatia in Siberia and the Primorye territory in the Far East. The biggest adventure, however, was a ride in the Far Eastern Khabarovsk region. When I suggested to friends that I wanted to hitchhike alone from Khabarovsk all the way to Nikolayevsk-na-Amure, near the mouth of the Amur River, I was called insane. "Are you already sick of life, at such a young age," a concerned friend, who once travelled from Irkutsk in Siberia to Latvia avtostop, asked me.
I was told that this was the criminal and bandit belt of the region and that I would be a "standing duck" on the highways. Despite all these fears, nothing even remotely dangerous happened to me. A police patrol pulled over and the officers on duty wanted to know what on earth brought an Indian man to this stretch of land. They found my story funny and introduced me to some local journalists. As I rode north parallel to the Amur River, I saw some of the most sparsely populated and most beautiful landscapes on earth. What a contrast it was to the maddening crowds of Moscow and Bombay! Miles and miles of open space and pure nature dotted the entire 977 kilometre stretch. Like on my first ever hitchhike in Russia, I was treated to the most amazing hospitality and almost felt like a celebrity in the tranquil Khabarovsk region villages. This trip lasted 6 days and created more thousands of impressions, but I felt that it was time to retire from hitchhiking, while I still had nothing but great experiences.
I had heard too many unpleasant stories of hitchhikers getting robbed in different parts of the world to continue with this lifestyle. A month after my Khabarovsk adventure, I hosted a German friend who tried to hitchhike in the same region. He was mugged by the people who offered him a ride from Komsomolsk-na-Amure to Vanino, from where he'd take the ferry to Sakhalin. When he saw a policeman, the friend who was raised in East Germany narrated his experience in fluent Russian to the cop, who was only interested in "passport control." Once the policeman realised that my friend was in Vanino legally, he asked him to go away!
Hitchhiking comes with such risks anywhere in the world, but it is one of those temptations that few adventurous travellers can resist.
All rights reserved by Rossiyskaya Gazeta.