Moscow Circus lacks a presence abroad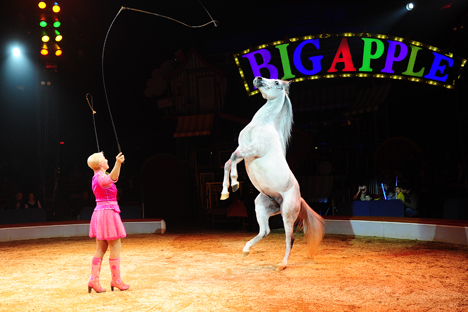 America likewise boasts a variety of circus shows. Source: AFP / East News
This summer, the U.S. hosted several big circus performances - from the New York-based Big Apple company, all the way to the Golden Dragon Acrobats of China. The only big top missing was that of the Moscow Circus.
Back in the 90's, the performing art of circus was extremely popular in the former Soviet. Some 70 permanent circus buildings were found in all major cities from Moscow to Vladivostok. Summer circuses, performed in tents, were also a big hit.
All kinds of circus shows could be found: traditional circus, all-female circus, animal circuses, ice circuses, water circuses, and even midget circuses for the tiny folks who did tiny tricks.
These days, America likewise boasts a variety of circus shows. Here in Washington DC, this year several circuses passed through the nation's capital.
There was the Big Apple circus company, a New York-based company famous for its Big Apple and East Coast performances. It's also known for its classical, one-ring shows and live music. Plus it boasts animals, a rarity these days in the world of red rings.
The Golden Dragon Acrobats From China also made an appearance this summer in Washington showing off their famous acrobatic feats and tumbling tricks. Don't try to find any animals here. It's the acrobatics that wow the audience.
Then came the UniverSoul Circus, known as the African-American soul version of the circus world. With hip-hop dancers, and a distinct soul feel to it all, their performances bring the African-American experience to the stage.
Of course, Canada's traveling Cirque du Soleil show "Quidam" can't be forgotten. WIth its new age choreography, an abundance of Russian performers, it's hard to go wrong with this one.
Unlike the others, this is a show with a storyline about Zoe, a youngster who is bored, apparently her parents ignore her, she can't find meaning in her life (is this Canadian or American??) so......she falls into an imaginary world. There she meets characters who help her find a life.
Finally we had the acclaimed Ringling Brothers, Barnum and Bailey circus, the oldest American circus, perhaps the only one these days to perform in a sports arena.
Once famous for its three-ring extravaganza, it's shrunk to one ring like all the others, but if you're looking for elephants, you will definitely find them here.
Five traveling circuses showed up to strut their stuff in the capital of the United States since January of this year. For most, it's an annual affair. Once a year they come and go.
The only one missing is the Moscow Circus. They don't travel much anymore, no one knows why. That's sad. They too have a lot to contribute to the arts world. It would be nice to see what new acts they have.
Perhaps next year.
All rights reserved by Rossiyskaya Gazeta.