Tehran shows preference to China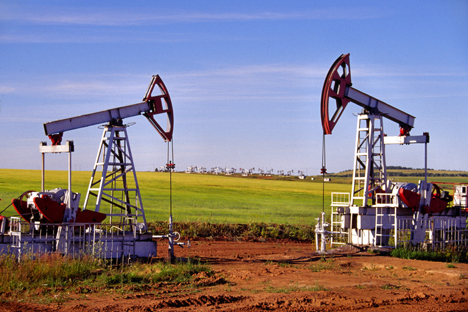 India may expand oil imports from Iran within the bounds set by the UN Security Council sanctions against Tehran. Source: ITAR-TASS
The big question is whether India has an independent Iran policy at all, which is not subject to American blackmail and pressure tactic.
The India-Iran energy ties touched rock bottom in the month of July when India's purchase of Iranian crude completely dried up. Not a drop of Iranian oil was purchased by the Indian refineries in July.
Therefore, Finance Minister Chidambaram's statement on Monday in Delhi can be taken at face value – that India may expand oil imports from Iran within the bounds set by the UN Security Council sanctions against Tehran. After all, from ground zero, it is not possible to make a climb.
The big question is whether India has an independent Iran policy at all, which is not subject to American blackmail and pressure tactic. Prime Minister Manmohan Singh is scheduled to visit Washington in September and it seems highly unlikely that Delhi would be in a mood to show 'strategic defiance' of the US in the coming two-month period at least by stepping up the ties with Tehran.
The irony is that Iran's oil exports considerably rebounded in July despite India's refusal to buy oil from that country. Even more ironical is that much of this rebound is to be attributed to China stepping up oil imports from Iran. According to the figures cited by the International Energy Agency, China purchased an average of 660000 barrels of Iranian pol per day in July, which is a big increase from the level of 385000 bpd in June. The increased Chinese imports helped overall Iranian crude oil exports to climb to 1.16 mbd from just 960000 barrels per day in June.
Meanwhile, a new dimension to the Chinese-Iranian ties has been added with the delivery of four new supertankers by Beijing to Tehran in the recent weeks under a $1.2 billion dollar contract, which flies in the face of the US-led sanctions against Iran's energy sector. This forms part of a big contract Tehran entered into in 2009 with two Chinese shipyards for building 12 new supertankers each with a maximum carrying capacity of 2 million barrels. The Chinese reports claim that the 12 supertankers will be delivered by the end of this year.
Curiously, this is also of some relevance to India, since Iran recently offered sovereign guarantees for tankers shipping its crude to India to cover liabilities between $50 million and $1 billion per year to compensate for the lack of insurance coverage due to the western sanctions. Technically, Tehran is going the extra league to 'incentivise' the mandarins in Delhi to overcome what the latter claim to be a major stumbling block in importing Iranian crude. It all now depends on the political will in Delhi to show courage to pursue an independent policy toward Iran. An alibi is no longer available to the mandarins in Delhi, who claim they are bound by only the UN sanctions but in practice buckle under American pressure.
The big picture is dismal. Delhi is unable or unwilling to connect the dots in its regional strategy. Without doubt, India is a stakeholder in the stability of Afghanistan and in the absence of the underpinning of a robust strategic understanding with Tehran, Delhi's Afghan policy will remain largely reactive. For long India has talked about an access route via Chahbahar to Afghanistan and Central Asia but recent reports suggest a high degree of Chinese interest to upgrade and develop that Iranian port to supplement Beijing's communication links via the Gwadar Port [with the Persian Gulf region] in Pakistan with the Persian Gulf region.
The Chinese initiative on Chabahar seems to have given some stimulus to the mandarins in Delhi to sit up and take note of the importance of India-Iran ties. There are indications that Delhi now seeks to fast-track the negotiations with Tehran over securing the contract to upgrade Chahbahar port.
However, all this may be too little, too late. Tehran has now got to carefully weigh the Chinese option as well and, therefore, it is not yet committing to India. Diplomatic circles took note that Iran's new president Hassan Rowhani extended the courtesy of a meeting to China's Culture Minister Cai Wu who represented his country at the Iranian leader's swearing-in ceremony on August 4 in Tehran, while the visiting Indian vice-president M.H. Ansari had to be satisfied with a meeting with the speaker of the Majlis Ali Larijani. Interestingly, Rouhani also received the visiting Pakistani President Asif Zardari. Of course, the Iranians are veterans in choosing their diplomatic idiom.
The Indian pundits fancy that they are locked in a 'great game' rivalry with China over Chabahar. But in actuality, this is mere fantasy. In order to be a great game player, a country ought to have a regional strategy. And India lacks one – whereas, China, most certainly, has one wholesome regional strategy toward Iran that dovetails with its national priorities and policies in Central Asia, Afghanistan, Pakistan and the Persian Gulf region as a whole. Beijing is far-sighted enough to appreciate the crucial importance of Iran for its overall energy security when it is set to surpass the US as the world's largest importer of oil.
This is where a mental block arises to place blind trust in Chidambaram's statement on Monday. Arguably, Chidambaram could be creating some 'heft' against the backdrop of the prime minister's forthcoming visit to Washington by threatening to play the 'Iran card.'
All rights reserved by Rossiyskaya Gazeta.