Prospects dim for an Egypt-like scenario in Russia or India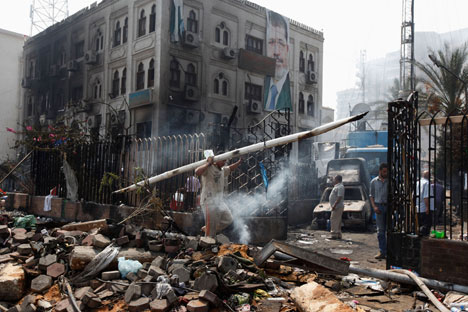 After the dispersal of anti-government demonstrations in Cairo, the death toll has believed to have crossed 1000. Source: Reuters
The large and well- to-do middle class in both countries see too many benefits from status quo in their urban existence to even think about rocking the boat.
The horrific violence that has plagued Egypt over the last week has left many well-wishers of the beautiful country in a state of shock and helplessness. If television and social media are any indicators of the ground situation in the streets of cities like Cairo, it's safe to say that the country has been plunged into anarchy and there seems to be a free for all for random criminals. At the heart of the violence is the coup d'état that deposed a democratically elected government. A Russian friend of mine who has lived in India for years asked me this morning whether I could see such scenes happening in the streets of Mumbai or Moscow.
It is easy to draw parallels between Egypt and Russia and India. Sections of society in the latter two countries are in some way unhappy with the state of affairs. The Indian economy looks like it has been run to the ground with the rupee falling every week to new lows and foreign institutional investors fleeing in droves. One of the reasons that India is not witnessing protests against inflation, growing lawlessness and alleged government apathy to the situation is a belief that this government can be voted out in 2014.
Those who are unhappy with Vladimir Putin in Moscow are obviously frustrated that the president will be in power till 2018, but then he won an election that was free and fair by every stretch of the imagination. One could argue the same thing about the current regime in India and the deposed regime in Egypt, but how likely are we to see violent protests in the streets of Moscow and Delhi to bring about a regime change? Knowing the psyche of the urban youth in both countries, I would put the chances as very slim.
The urban middle class of both Russia and India enjoy a kind of comfortable existence that their parents' generation could have only dreamt of. In the 1970s, it was only the really privileged in India or those brilliant enough to win scholarships that went abroad. The Soviet Union also tried hard to keep its citizens from going to foreign countries for private visits and only those in the Foreign Service or state-run companies had the honour. Things are so different for this generation in both countries. Not only are more borders open, it isn't ridiculously expensive anymore to go abroad.
In both countries, all kinds of products are available in shops and the internet has made international communication and friendships a lot easier. Despite the mutterings against Putin or the Gandhi family, the high flying youth of cities in Russia and India tend to be largely apolitical and couldn't care either way about who runs the country. Unless policies hit the youth hard and shake them off their newly acquired wealth and lifestyles, it's hardly likely that they will take on a government and its machinery.
Many of these same privileges in Russia and India are enjoyed by young upwardly mobile Egyptians, but what seemed to have pushed them is a far greater sense of helplessness that was part and parcel of being under regimes that wouldn't listen to them at all. Since Egypt was a darling of the West, little attention was paid to the dictatorial style of Hosni Mubarak and the army that ruled with an iron fist. To top that off, Egypt's economy did not make the kind of strides that the BRIC countries made in the last decade, leaving a generally poorer young population and a recipe for disaster.
This isn't to say that there isn't poverty in India (much to the contrary) or Russia, which has its own problems in smaller regions. India's urban poor may not have decent living conditions, but what they have is still worth leaving the countryside for. People don't starve to death in Indian cities. The elite in the country know how to keep sections of the poor in places like Mumbai happy. Let them have a run of the city during religious festivals, encourage loud music, binge drinking and the occasional sexual harassment of young women and some people tend to temporarily forget the gap between the haves and have-nots. Rural anarchists like the Maoists don't have the power to bring down India since their support is concentrated in particular areas.
President Putin's move towards conservatism has found a lot of takers in the smaller parts of Russia. Perhaps the traditional Russian ethos of placing greater emphasis on values than on materialism is what will keep those in small towns and rural areas more inclined towards supporting the government. Essentially it's a section of Western-leaning Muscovites that are looking for a regime change in the country but they don't even come close to forming a majority in Russia. But even if they did, they'd prefer not to rock the boat and mess up a relatively easy life of high salaries and foreign holidays.
Man doesn't live on bread alone in Russia and India, but then again no one in the foreseeable future would ever think of reinventing the wheel in either country.
All rights reserved by Rossiyskaya Gazeta.