Sushil Kumar's allegations raise many questions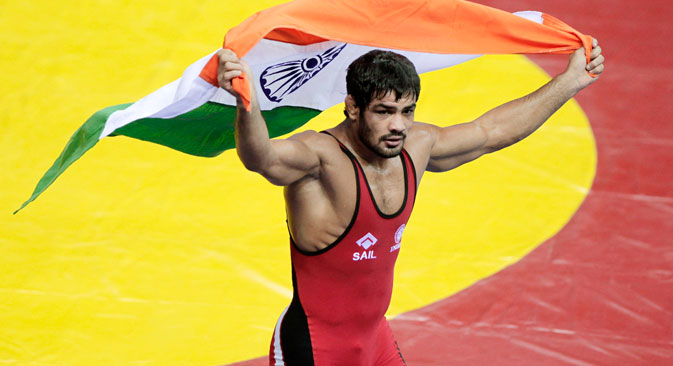 Sushil Kumar's comments about the 2010 world championships in Moscow are bound to raise a storm. Source: Reuters/Vostock Photo
For starters, the Indian wrestling champion needs to explain why he waited 3 years to reveal that he was offered money to throw the World Championship final in Moscow.
At a time when Russian athletes are the toast of the international sporting community for their excellent performance at the recently-concluded IAAF World Athletics Championships in Moscow, readers in India received a rude shock on Friday morning thanks to Indian wrestling champion Sushil Kumar. The former world champion and London Olympics silver medalist told the Times of India that he was offered a "good few crores" to throw his final against Alan Gogaev in 2010.
The "aghast" wrestler told the paper: "For a wrestler, it was really good money. The offer was communicated to one of our foreign coaches. The event was taking place in Russia and my final opponent was a Russian. It's our country so our player should win — that's what they seemed to want."
First of all, Sushil Kumar needs to be commended for not taking the money and defeating Gogaev. Many young sportsmen in India and other countries have taken money to tank matches. Some Indian cricketers, who not only make a fortune but get treated like demi-gods, have also been implicated in match-fixing scandals. If the flag-bearer for the Indian contingent in the London Olympics was offered a few good crores, then he could have lived a good life with that money in a country that treats non-cricketers very poorly. Hats off to Sushil Kumar, who said "hamari bhi izzat ki baat thi (there was a question of pride for us as well).
The words and timing of the wrestling great do raise a few eyebrows. By saying something like that "it's our country so our player should win," hints that there was some sort of official complicity. You can't just make such allegations without backing them up, unless of course a "yellow journalist" sees no need to even verify what you said or at the least make a reasonable attempt to contact the wrestling authorities in Moscow and give them a fair chance to comment.
Tell us, Sushil-ji, why did you wait three years to reveal what happened in Moscow? Why didn't you immediately inform the press or the manager of the Indian delegation at the world championships in 2010? Did you inform your manager and did he ask you to hush it up? Who is this foreign coach that you are talking about? Come out with a name. You have no qualms in maligning the reputation of an entire country but you want to protect one individual? Is it possible that the unnamed foreign coach misled you with his words? Considering the fact that the sports bodies in Russia neither have the money nor the inclination to fix matches, did you ever consider the fact that this could be the work of a betting syndicate?
It's obvious that Sushil Kumar has no anti-Russian agenda. In the same interview, he was graceful enough to acknowledge the Moscow crowd's act of sportsmanship. Sushil said how he was humbled by the reception he received from the crowd after the final win in Moscow. "As I climbed down from the mat, I looked up and remembered noticing that there was no one sitting. Everyone in the stadium was giving me a standing ovation. It was most humbling," the wrestler said.
It's easy to imagine that bookies are trying to fix matches in sports like cricket, football and tennis, which have a huge audience and fan following and are generating profits for players, teams, organisers and advertisers alike. But wresting? We're not talking about the American fixed wrestling that children across the world watch on television. How many people in India or any country for that matter plan their day around professional wrestling events being broadcast on television? How many people lose sleep over watching international wrestling competitions at unearthly hours? Indians found out about Sushil Kumar winning the gold in the Moscow World Championships in 2010 in the next day's newspaper. They were probably not broadcast on any Indian television channel.
The best part of watching some traditional and generally non-commercial sporting events is the knowledge that they are most likely devoid of foul play. If there is a betting ring around sporting events that have so little commercial value, such as wrestling, then the authorities need to seriously clamp down on it. Meanwhile, let the sports authorities in India and Russia look into these allegations made by one of India's greatest champions.
Tailpiece: India is one of the few countries that actually does not care at all about Russia's anti-gay propaganda law. Homophobia has been a part of Indian life since the times of the British Raj. While the Western world goes on a judgemental spree over the new Russian law, there is no call to gang up against Russia. Wouldn't it be very convenient at this juncture to manufacture a controversy to stir up anti-Russian feelings in India, especially in the sporting arena?
All rights reserved by Rossiyskaya Gazeta.