'Hindi-Russi Bhai Bhai' is no relic of the past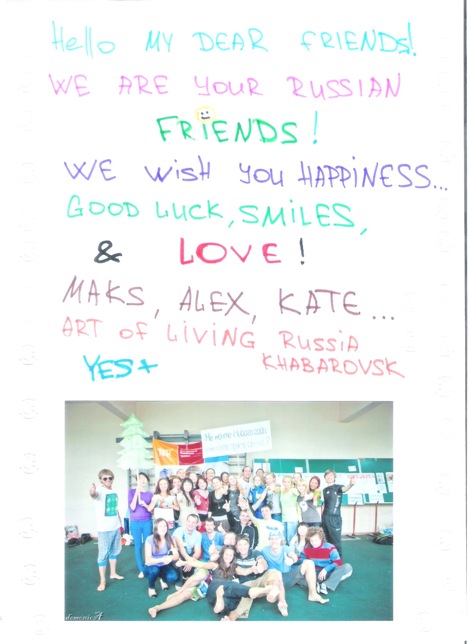 Greetings from Russia. Source: Khabarovsk Art of Living Centre
Although Bollywood films may no longer be popular in the country, there is a strong and growing niche of young Russians who hold Indian culture and traditions in the highest regard.
It's around 6 am in the small village of Chittalancheri in Kerala's Palakkad district. As the azaans of the local mosque give way to temple bells, Evgeny Kovalsky is being instructed by a local yoga teacher on how to perform a difficult asana. The 29-year old resident of the Russian Far Eastern region of Khabarovsk first came to India in 2010, when he was basically an adventure-tourist evading conscription. He spent months in the yoga centre in rural Kerala until he was hooked on to a simple and healthy lifestyle, which was diagonally opposite to his wild college days in Khabarovsk.
"I found 'my way' here," says Evgeny who came back to Palakkad to reconnect with his yoga teacher and to spread the message of friendship from Russia. This is a strong message that seems to have been forgotten at a time when student and cultural exchanges between Russia and India in no way compare to the heyday of Indo-Soviet Bonhomie. What's changed since the 1970s and 80s is the fact that Russians and Indians are both more globally mobile and have formed large Diasporas in third countries.
As immigrants often do, this new generation has had to try hard to fit into a new host society. This often leads to a degree of insecurity and a great need for belonging. So many Indians in western countries need to try and be as western as possible to fit in and the same goes for Russians. One Indian friend of mine, who belongs the pre-1990 university students' generation and is a sworn Russophile, was disillusioned after meeting some Russians in Europe. He expected to meet the kind of Russians who used to visit Indian metro cities in the 1980s. He felt a certain degree of coldness and a lack of solidarity from the Russians he came across during his trip. My take on this was that these were mainly western-leaning Russians who at least in some way had given up on Russia itself. It didn't help that my friend didn't speak Russian, which is often the biggest ice-breaker.
When I narrated this experience to the Kerala-loving yogi from Khabarovsk, he touched up on a point that I tend to agree with. People with the traditional Russian soul and spiritual mindset connect with India on a greater plain, even if some of them are Christians, Evgeny, who has also stayed in an Orthodox Monastery for a year, said. In cities like Moscow, there is a small circle of Indologists, most of whom know so much about India and its customs and traditions, that it could put the average educated Indian to shame. But these aren't elite circles by any means. "If anything, our bonds are stronger now since there's no government propaganda," says Anna Popova, an 'Art of Living' practitioner and Nicholas Roerich fan from Novosibirsk. Anna is an active member of a Russian blogging community dedicated to India.
As Evgeny Kovalsky travelled to Mumbai from Kerala, he carried with him a card from the 'Art of Living' community in Khabarovsk. The message read: "Hello My Dear Friends! We are your Russian friends, we wish you happiness, good luck, smiles, Love!" Attached was a group photograph of the 30-odd members of the community in Khabarovsk, many of whom had visited Bangalore and met Shri Shri Ravi Shankar, the founder of the movement.
There are several 'Art of Living' communities in Russia, to go with yoga clubs with affiliations to India, like the Iyengar movement, which has many followers in Moscow and other Russian cities. It's not just yoga and spirituality and most certainly not just the intellectuals in Russia who are once again looking at India. The fact that Goa is one of the most sought-after destinations for Russians is no secret and Kerala, with its backwaters and lagoons and ayurvedic spas is also going to witness tourist traffic in chartered aircraft from Russia. Sonu Nigam's concert in Moscow last month attracted Hindi music fans to the city from different parts of Russia and so do cultural festivals with an Indian theme. Places that are as far away from each other as Komsomolsk-na-Amure and Voronezh get a significant audience for talks and exhibitions on the Roerich legacy.
Evgeny Kovalsky at a yoga centre in Kerala. Source: Personal Archive
With tourist visa procedures eased, this is actually the best time for Indo-Russian youth solidarity. Like I did though with my somewhat disillusioned Indian friend, I would like to throw caution to the wind. Since a lot of information on India and Indian culture is available in the Russian language, someone who is a fan of the country may not necessarily be fluent in English. That's exactly where a good understanding of Russian comes handy. Besides that, knowing about Russian traditions, culture and history would also help make great inroads with those Russians who are passionate about India.
Note:
This publication along with the Russian Centre for Science and Culture in Delhi is organising an essay-writing competition. Tell us how the 21st century could shape up for India and Russia and Indo-Russian ties and you could win a Delhi-Moscow return air ticket.
All rights reserved by Rossiyskaya Gazeta.