Russia, Iran and the 'Time of Troubles'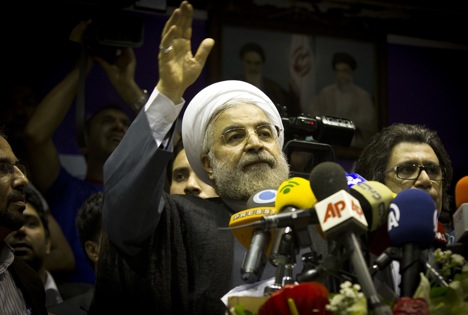 The Rouhani presidency aroused worldwide interest as presaging a meaningful US-Iran engagement that eluded the two countries since the 1979 Islamic Revolution. Source: Photoshot
With Vladimir Putin preparing to meet Hassan Rouhani on the sidelines of the SCO summit, Moscow and Teheran are in a frame of mind that is conducive to reviving their strategic partnership.
A major highlight of the Shanghai Cooperation Organization's annual summit gathering in Bishkek, Kyrgyzstan, on Friday promises to be an event on its sidelines – the scheduled "bilateral" meeting between Russian President Vladimir Putin and his Iranian counterpart Hassan Rouhani.
This will be Putin's first meeting with the newly elected Iranian president and it is of added interest that the Russian leader will be applying himself to the complicated Iran file in Russian foreign policy at a time when the Middle East is passing through a period of crisis – Time of Troubles or cmuthnoe vremya, as Russians say.
Putin's visit to Iran in 2007, first by a Kremlin leader since Joseph Stalin's in 1943, had raised high hopes of a historic turn to the bilateral relationship and of a new template in the geopolitics of the vast space the two countries overlap in and around the "Heartland" – Central Asia and the Caspian, Caucasus and the Middle East.
A lot of water has flown under the bridge since then. During Dmitry Medvedev's presidency once the Russia-US "reset" appeared and the Iran question became a real time talking point between the two powers, the calculus changed. Soon, the transactional dispute arose over Russia's non-fulfillment of the contract for supply of S-300 missiles to Iran. Russia insisted it acted under the UN sanctions, but Tehran saw the "hidden hand" of the US and Israel. Meanwhile, the steady worsening of the situation around Iran nuclear issue introduced limits to engaging that country, given the international ramifications.
Today, the calculus is again changing. The US-Russia reset is over and a new type of relationship is struggling to replace it. Following Putin's return to the Kremlin as president, Russia has become assertive on the world stage in upholding the principles of international law and the primacy of the United Nations and its international standing and prestige has risen. The respective Russian approaches to the regime change agenda in Libya and in Syria offer a case study. Without doubt, Russia's effective role is a positive factor of global "strategic balance".
Yet, Russia won't view the world through any ideological "East-West" prism. Nor will it set aside national interests as the paramount consideration in foreign policy. Globalization gives impetus to Russian policies, given the imperative of innovation of Russian economy. Certainly, Russia will take care to optimally deploy its resources and remain vigilant not to repeat the Soviet overreach.
On the part of Iran, too, much has changed. The Rouhani presidency aroused worldwide interest as presaging a meaningful US-Iran engagement that eluded the two countries since the 1979 Islamic Revolution. Rouhani signaled in many ways Tehran's renewed interest and indeed the priority to negotiate with the West – through policy pronouncements, cabinet appointments or sheer diplomatic "body language". Iran's economy is in distress due to the sanctions, but Rouhani also demands respect and fairness and equal status in any negotiations with the US.
The good thing is that the Barack Obama administration seems to realize the limits of US military power to intimidate, leave alone vanquish Iran. Thus, the two countries are warily probing each other's intentions and any keen observer of the three-decade old standoff would sense that anything can happen by way of a direct contact between Rouhani and the US interlocutors during his forthcoming visit to New York to attend the UN General Assembly session.
Now, a US-Iranian engagement will be a game changer for regional politics and the countries in the region – and even beyond – have begun working on the adjustments that become necessary. British Foreign Secretary William Hague apparently would like to meet Rouhani in New York even ahead of any US interlocutor. India wants to overnight restore the cuts in oil imports from Iran that were prompted, ironically, under American pressure. Turkey gingerly sidesteps the great divide over Syria and Iraq to breathe verve into ties with Iran.
However, from Iran's viewpoint, it is the Russian connection that would be a "force multiplier." But Tehran needs to revisit its perceptions regarding a larger-than-life influence wielded by pro-western Russian elites in policymaking. Russia's firm stance on Syria during the crisis period since the US began assembling an armada in the Eastern Mediterranean cannot but impress Iran for which regime change in Damascus also has existential overtones.
Rouhani would weigh in that even as his credibility as a negotiator is rising in the western eyes, his capacity to negotiate significantly gains out of a strengthening of the Iran-Russia relations at this juncture. Equally, Putin was never in two minds about the high importance of Iran as a neighboring country with which Russia has common interests. In sum, both Iran and Russia are in a frame of mind today that is conducive to reviving their strategic partnership.
Unsurprisingly, the S-300 missile deal remains a sticking point. For the Iranians Russia's willingness to fulfill its contractual obligations becomes a litmus test of its goodwill and Moscow's capacity to pursue an independent policy. Moscow's decision to cancel the contract wounded Iranian pride and sensitivity.
But there is more to it. Countries that feel insecure have taken recourse to developing deterrent capabilities. Syria's chemical weapon stockpiles or the nuclear stockpiles Israel, India, Pakistan or North Korea are examples. Iran has taken a wise path to develop its deterrent capacity through means other than weapons of mass destruction. The strengthening of the missile defence system significantly boosts Iran's deterrent capability against aggression. And it is in Russia's interests too that a regional power like Iran is enabled to retain its strategic autonomy.
It all ultimately boils down to the understanding of Iran. Contrary to what hostile western propaganda projected, Iran has been a factor of regional stability. Iran gave a helping hand in ending Tajik civil war; it opposed the manifestations of militant Islam and Salafism that surfaced in Central Asia and Afghanistan, Chechnya, Xinjiang and Kashmir; it's been a reasonable Caspian neighbor; it's not in the business of promoting regime change.
All rights reserved by Rossiyskaya Gazeta.