Level playing field essential for global nuclear power industry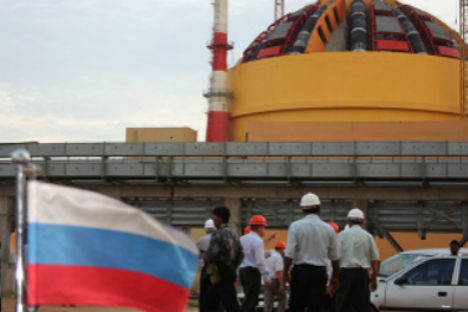 Kudankulam's third and fourth reactors will come under India's civil nuclear liability law. Source: RIA Novosti
After insisting that Kudankulam's third and fourth units come under India's civil nuclear liability law, it would be a travesty of justice if provisions of the act are watered down for American private players.
After a week of rumours emanating from Delhi that provisions of the Civil Liability for Nuclear Damage Act in 2010 would be watered down to facilitate a deal between the Nuclear Power Corporation of India (NPCIL) and US-based Westinghouse Electric Company (WEC), India's Foreign Secretary Sujata Singh set the record straight. "On the issue of nuclear liability laws, all contracts with foreign companies are subject to the Indian civil liabilities for nuclear damages act and rules," the foreign secretary said. "The contract has to be consistent with Indian law and there is no question of Indian law being violated. As a Government company NPCIL will follow Indian laws."
The civil nuclear liability law allows the nuclear operator the right to demand compensation from a supplier in case faulty equipment causes an accident at a nuclear power plant.
Russia unsuccessfully argued that the Kudankulam Nuclear Power Plant's third and fourth reactors should not come under the civil nuclear liability law. Moscow had demanded that the same terms and conditions of KNPP's units 1 and 2 should also be applied to the newer units. India chose to not apply the civil nuclear liability law to the first two units since they were constructed under an original 1988 agreement. Although India's Department of Atomic Energy was willing to waive its legal right to claim damages from the suppliers for KNPP 3 and 4, the Prime Minister's Office objected and insisted that the law be applied, because an exemption would have been seen as discrimination against companies from the US and France.
India and Russia are now on the verge of finalising an agreement for the construction of the third and fourth reactors and the formalities are expected to be completed during the 14th annual Indo-Russian Summit in Moscow next month. Well within its rights, Russia drove a hard bargain over the costs for the units, since they would come under the law. Informed sources, however, told RIR that Russia is looking to charge India around Rs 6 per kilowatt-hour (kWh) for the second and third units of KNPP, while American companies that want to have a presence in the Indian market are looking at Rs 12 per KwH.
India would end up paying double to American companies and despite that the latter are insisting that they get some sort of concessions vis-à-vis the civil nuclear liability law. Prime Minister Manmohan Singh is eager to see that an American nuclear company gets a major contract in India. He risked his government during the last term to get the Indo-US nuclear deal to pass in parliament. It was the efforts of the United States that brought India back into the civil nuclear energy map. However, as grateful as India is to America for its efforts (driven of course by the interests of large private players), the application of the civil nuclear liability law has to be universal.
If American players get privileges that go against Indian laws then India will be very much be answerable to countries like France and Russia, the latter being the only country that stood by New Delhi at a time when no one else would offer any kind of cooperation in this industry. It would also confirm suspicions that India was moving in the direction of becoming an "American stooge" that puts its relationship with Washington over and above its own national interests.
For a long time, strategic experts have complained that India has moved away from its traditional diplomatic policy of non-alignment and entered Washington's ambit. These complaints weren't without reason. New Delhi initially shied away from the Shanghai Cooperation Organization and only started taking it seriously when it was obvious that Pakistan was looking to become a permanent member. India also toed America's line on Iran and until the recently-concluded G20 summit in St Petersburg, looked like it was in the Western camp on the Syrian crisis.
I have always maintained in this space that being pro-Russia does not equal being anti-America. India needs to value its relations with the United States but not at the cost of its own interests. The United States continues to bankroll Pakistan, which uses American funds to add to its nuclear arsenal rather than for developmental purposes and as highlighted in this article by leading strategic analyst M K Bhadrakumar, Washington wants Pakistan to be the major player in Afghanistan, despite Islamabad's support to the Taliban. When Washington has scant regard for Indian interests, why does New Delhi need to bend over backwards to please its "new friend"?
The developments that come out of Manmohan Singh's visit to the United States this week could have greater ramifications for India's foreign policy and its relations with global powers. One can only hope that India sticks to its long-held and cherished international principles.
All rights reserved by Rossiyskaya Gazeta.