Idiosyncrasies and characters in day to day Russian life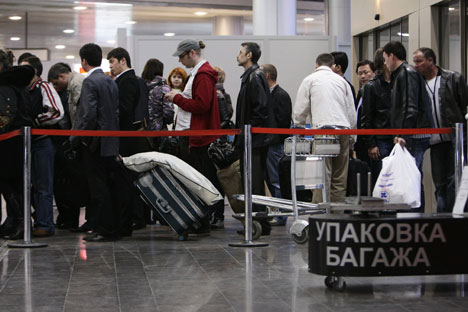 Russian airports can provide many entertaining situations. Source: RIA Novosti / Georgiy Kurolesin
Some foreigners get so used to certain typical Russian situations and people that life never feels the same without them.
Moscow's Sheremetyevo airport was a completely different place ten years ago and as a foreigner I was in for my first serving of cultural shock in Russia when I landed at the airport that was affectionately called a "house of horrors." It was a late-winter morning when I boarded the aircraft from Delhi and was surprised to see a plane full of Sikhs. I never imagined that so many Sikhs would be visiting Moscow in the off-season. As it turned out, these travellers were only using Moscow as a transit point to fly to Canada. I was probably one of a handful of people on board who was getting off in Russia.
As I walked slowly towards passport control trying to get past these transit travellers, an officer from what I presume was the Federal Border Guard Service approached me. "Toronto? Toronto," he asked looking at me in an almost menacing way. "No sir, I have an onward flight to another Russian city," was my polite response. The man with the demeanour of an army sergeant in a raised voice asked me why I was in the wrong queue. Shocked at the way he was talking to me, I asked him if he was angry. "NO!" came the emphatic response. "I am not angry," he said while having a terrifying expression on his face.
These days, Sheremetyevo is mostly manned by young and friendlier staff. A smile is not unusual from the immigration officers and the airport has a far more relaxed feel to it, but it can still spring surprises. On a more recent trip, I saw a deeply philosophical conversation between customs officers sitting by an x-ray machine. The women were discussing the finer elements of Boris Pasternak's poetry. At that precise moment, a Russian woman placed her suitcase for a scan. She seemed to be almost eavesdropping and enjoying the conversation when one of the customs officers suddenly yelled,"Lady, don't put the suitcase like that!" There was rage in her face as she screamed but within a split second the conversation went back to Pasternak and the poetry.
I controlled my laughter at the "typical" situation but had a grin that I couldn't hide. The warm smile on the women's faces turned to suspicion of my smirk when they looked at me. If these people weren't customs officers they could have tried a career in acting! They had the amazing ability to change from happy to angry and back in a matter of seconds. All in a day's work for these charming souls.
Of course, it's not just airports where one gets to see these situations. I remember a "kind" lady at a corner shop who would greet with a stern "what do you want." I could have sworn that she wanted to kill me, but there were days when she genuinely smiled when I entered the shop. Those were few and far between though. I got used to her style and was taken aback when I was getting service with a smile in places like Moscow. After all, there are no fake smiles in Russia: when a Russian person smiles, it comes straight from the heart...
These types of unique people make Russian life interesting. People like the cleaning lady who lectures employees in the office about the need for punctuality. She was once a proud citizen of a socialist worker's paradise and she still has some power. There may be some kind of hierarchy now in capitalist Russia, but the cleaning lady could still exert power by dumping dirty water on a clean pair of clothes. Surely no neo-capitalist would dare risk something like that at 8 am on a working day!
Some people complain about hooligans but if Russia didn't have them, wouldn't the country be as boring as Switzerland? Russian hooligans can actually be fun. I remember an incident when I slipped on ice and three girls who had too much to drink laughed out loud. The smart thing for me would have been to ignore them and walk away (hindsight is 20/20), but I sarcastically said "very funny" in Russian and then it was my accent that was a butt of their jokes. When I called them fools, I was attacked with snow balls. The entire concept of "male advantage" goes out the window when there is a one against three fight with "Amur Tigresses" of women! The fight did end badly for me but then this is something that would never happen in my own country, where conservative attitudes keep women away from confrontational situations with men even if they are in good humour.
Humour is the buzz word. Russians can see something funny in any kind of situation. This is probably one of the essential components of the Russian soul. Over the last ten years, I have rarely had a dull moment in the country. If only more places gave me as many reasons to laugh as Russia did, life would be even more fun.
All rights reserved by Rossiyskaya Gazeta.