Adulation: Indira Gandhi in the USSR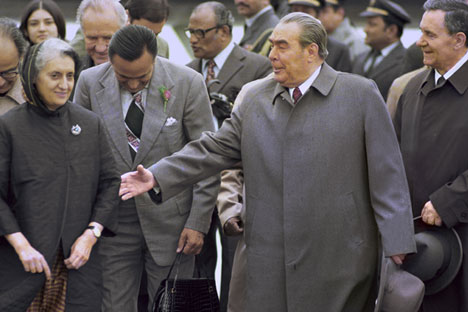 Leonid Brezhnev and Indira Gandhi laying wreaths at the Tomb of the Unknown Soldier. Source: RIA Novosti / Yuri Abramochkin
A 1976 documentary film made by India's Films Division captures the warmth that the Soviet people and leadership felt towards India's only woman prime minister when she visited Moscow and Yerevan.
When diplomats talk about the successful 14th annual Indo-Russian summit, many older generation admirers of the Soviet Union laugh it off, talking about the glorious days of great relations between the countries. For someone born in the late-1970s (let alone Young India) it is truly hard to fathom how close New Delhi and Moscow were in the days following the 1971 Indo-Soviet Treaty of Friendship.
The Films Division of India's Ministry of Information and Broadcasting made a 20-minute documentary film on the 1976 state visit of Indira Gandhi to the Soviet Union. Any young person who watches the film would understand what the old timers are talking about when they talk about how strong ties were at one time.
Source: Films Division / YouTube
Last week, when Manmohan Singh visited Moscow, he was conferred with a PhD by MGIMO, but besides this development, few in the Russian capital seemed to notice or care that an Indian prime minister was in town. Given that the summit between the heads of government of Russia and India is a yearly event now, but for one to feel the pulse of the 1970s, this documentary is essential viewing.
When Mrs Gandhi's Air India flight landed in Moscow for a 6-day official visit, she was received by Leonid Brezhnev, Alexei Kosygin and Andrei Gromyko! The airport was also full of curious Soviet admirers as well as members of the Indian community. As she drove to the Kremlin, the Indian prime minister witnessed large and cheering crowds on a rainy day. Such a phenomenon is just unthinkable in most parts of the world in 2013.
One has to wonder though, about these people that lined the streets of Moscow to get a glimpse of Mrs Gandhi. Who were they and did they really come there on their own initiative on a rainy day just to see the Indian prime minister or was there some kind of compulsion from the Moscow city authorities? Some of the people I spoke to last year insist that they took off a day from work just for the occasion.
The documentary also shows Mrs Gandhi's sons Rajeev and Sanjay as well as their wives Sonia and Maneka. This was 28 years before Sonia Gandhi became the most powerful woman in India. It would be fascinating to know how she viewed Indo-Soviet relations during that visit and whether she could in her wildest imagination picture having the kind of power she wields now.
During the 1976 trip, Mrs Gandhi and her family went to the cosmonaut training facility as well as an old Russian Orthodox monastery and the visit seemed to be some sort of small holiday as well. There's almost no chance that a visiting head of government to do something similar in this day and age, when global diplomacy calls for working every single day. But then again, it really required a great relationship with another country for the prime minister to spend as many days as she did. The political and economic relationship reached its peak in the late-1970s when the Soviet Union became India's largest trading partner and defence supplier, with some critics claiming that Agra shoes and Indian soaps were traded for tanks and guns. Mrs Gandhi made the right decision to ally with the Soviets in the early-1970s. The friendship treaty that was signed by the two countries all but guaranteed that India could liberate Bangladesh from a genocidal West Pakistani regime, without being attacked by a Anglo-American force that cared little about the murder of 3 million civilians.
India's 'Iron Lady' was by no means a Soviet puppet and took Moscow to task when it invaded Afghanistan. Of course, the thought of boycotting the Moscow Olympics was not something that would have even crossed her mind.
The global realities have dramatically changed since 2013 and the USSR is history, but there is no reason that relations between Russia and India can't once again move towards the direction they were in the 1970s. All the positive indicators and feelers have been coming from the Russian side. Moscow looks at greater bilateral and multilateral engagement with New Delhi and has long maintained that India deserves a veto-wielding and permanent seat in the United Nations Security Council, in addition to supporting India's quests to become a member of the SCO and APEC.
We may never witnesses scenes like that those of young girls with flowers running on to the tarmac of the Yerevan airport to give an Indian prime minister roses, but the initiative taken by Vladimir Putin to strengthen the old friendship will pay dividends in the future.
Afterthought:
The documentary film is also essential viewing for fans of history and those who want to get an idea of how Moscow looked like in the Brezhnev era.
All rights reserved by Rossiyskaya Gazeta.