For the love of festivals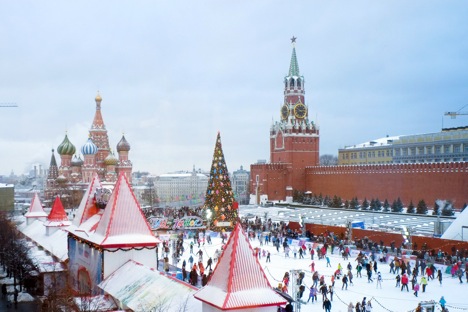 Russians get as excited about New Year as Indians do about Diwali. Source: Alexey Smirnoff
Nothings binds Russians and Indians together more than a good reason to celebrate a special occasion, with both countries having more than their fare share of festivals.
A Russian guest who came to India to celebrate her birthday in early-September was excited about Ganesh Chathurthi, the birthday of the Hindu elephant god Ganesh. That particular year, the festival was just a day after her birthday. "There's some wine left over from my party, let's toast to Ganesh," she said in front of a shocked Indian host. Alcohol is considered taboo by many middle class Indians, especially when it comes to religious festivals, although in the north, Diwali get-togethers post-religious ceremonies are often celebrated with Scotch.
Traditionally, alcohol is an integral part of a Russian celebration. A relic of the Soviet days, when every single profession was valued in the country, Russia has a professional holiday for everyone from students to miners to diplomats and geologists. I happened to visit a neighbouring office once on a Monday morning and was persuaded to celebrate with the employees. The company was into construction projects and the early crowd in the office seemed a bit high from the day before as the second Sunday of August is the 'day of the builder.' I was told that I offended my friends by not joining them in celebration of their professional holiday. The only escape from an office full of large men was to have a couple of shots of vodka at 8 am on a Monday!
There is a growing awareness in Russia that alcohol abuse is a problem and many are shying away from the bottle even during the most "special" occasions, but in urban India, there seems to be a reverse trend with younger people, especially women, increasingly enjoying the taste of various alcoholic beverages.
Thankfully though, festivals in both countries are not just about excessive drinking. There are plenty of ways to celebrate and mark festivals, but the biggest complaints seem to be that both countries have too many holidays.
Let's take the case of India first. It all starts with Ganesh Chaturthi in September and then comes Navrathri, the nine-night long festival, which is most popular in Gujarat and is usually in October. At the same time that western India celebrates Navrathri, Calcutta and the eastern parts of India come alive for Durga Pooja. This is followed of course by Diwali, which is being celebrated across the country over this weekend. Post-Diwali most people are only thinking about Christmas (whether they're Christian or not) and the New Year. In fact, many of the Indian cities feel abandoned after the second week of December with schools shut and families heading elsewhere for a small vacation. The last 2 weeks of the year and the first week of January is a particularly nice time to be in a city like Mumbai, which is relatively quiet and peaceful.
As for Russia, it should be noted that banks, educational institutions and offices stay open on the so-called professional holidays, but then when the bank holidays come do they ever come! The best part of working in the country is the fact that you are entitled to a long paid-vacation from December 30 to January 8. It's against the Russian labour code to make an employee work in that stretch unless they get double pay. These 10 days don't count in the annual leave of absence an employee is entitled to. Last year, we also experienced a couple of mini-vacations that accompanied May Day as well as Victory Day. Somehow getting back to work after a long layover in January, when it is freezing, is not as bad as doing so in May, when the weather is glorious across Russia.
Any talk of reduced industrial or economic productivity on account of the lumped festival holidays in Russia or the long series of festivals that descend upon India over the last 4 months of the year is often shrugged off by colleagues and friends from both countries. "If you don't like it, move to America," is a common response that a workaholic may encounter in both countries. There seems to be a belief in Russia and India that Americans still follow the "Protestant Work Ethic," something that is quite obviously not the case anymore.
Personally, I feel Diwali in India and the New Year in Russia are over-commercialized and there's just a lot of social pressure to overindulge in a lot of ridiculous and wasteful expenditure. I admired those few people I knew in Russia who decided that there was nothing they would do on New Year's Eve and would not follow the herd mentality no matter how hyped the festivities were. It is wonderful to get so many days off though. The festivals are a great occasion to catch up on reading, sports and other recreational activities or just to go somewhere for a nice change, often to escape the commercial hype.
All rights reserved by Rossiyskaya Gazeta.