When Russian food meets British tradition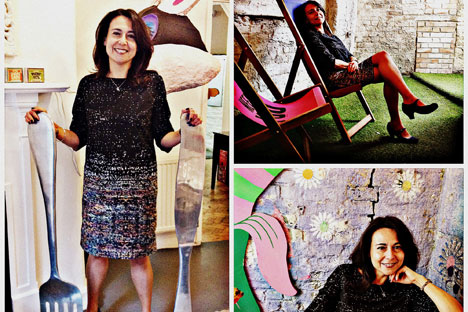 A woman from Moscow talks about her life in London and her mission to introduce Britain to Russian cuisine.
Karine Baldry, 50
Occupation: Author of Russia on a Plate, creator of Russian Revels and founder of Chance for Life
City of origin: Moscow
From Moscow to London: I have been living in London for the past 10 years. I grew up in the Soviet Union and met my husband, a Brit, in Moscow. We lived there together until when my husband's work took us to Poland. After a period there we finally arrived in the UK in 2003. We have been here ever since.
On writing Russia on a Plate, her book about Russian cuisine: I came to what I am doing now gradually and unexpectedly. In the past I have worked as an interpreter, a translator, a teacher and in relocation services, but cooking was always my love and passion. When I left Russia I had to leave my job. Arriving in the UK I decided it was time to do something with myself. So I thought to myself: "How about I introduce Russian cooking to England?" I started to try all these recipes from my childhood - those that my grandparents, mum and friends used to cook - and it became a book.
On her social culinary project Russian Revels: I met my colleague Katrina (Kollegaeva, co-founder of Russian Revels, editor's note) here in the UK. We share the same passion and mission to change the stereotypical view of Russia through food. We discovered that this is probably the best way to change stereotypes. People love food, but they don't understand exactly what Russian cooking is. To them it might seem boring and very bland. Katrina and I decided: "That's not true! We are going to change that!" and created a format which is fun, interactive, entertaining and enticing - Russian Revels. We apply the concept of "supper clubs" to Russian cuisine and bring eating and socialising into an informal environment.
On her mission: I want to change the whole image of Russian cuisine by creating a culinary symbiosis between my life here and in Russia. We try to make Russian food edible for a European palate. My signature dish in this sense is beetroot pie, which I created from scratch and quickly became very popular. The concept of pies is understandable to Brits because they love them here, while borscht is very iconic of Russian cooking.
Missing the Russian way of life: I really miss that ritual of sitting in the kitchen talking, with people casually dropping by and without any need to schedule in advance. Here you have to make an appointment 3 months ahead to have dinner with a friend. In Russia there is a more spontaneous and casual living. You don't plan it: if you feel like visiting someone you just show up and knock on the door, and no one is surprised.
Being married to a Brit: We have two sons and after twenty years we are still happily married. The fact that he lived in Russia, and that we lived in Russia together for years, really helped our relationship grow. It enabled him to understand our psyche and our way of life. The whole chunk of my life in the Soviet Union was at times difficult for him to understand, but it has enriched our life - he wants to know about it, learn what it was like back then, get our children to understand that aspect of our life. I am blessed because my husband understands that cultural concept of living in Russia, and we brought all that with us. It works.
On life in Britain: When we came to the UK I instantly felt at home. I didn't have a traumatic time adjusting to life in London. Even my husband says that he is very much surprised by how easily I have embraced living in London. Sometimes I stop to reflect on whether I actually consider myself an English person more than a Russian. I can probably say I feel 50% Russian and 50% British.
I adapted to the British lifestyle quite easily, even though there are a lot of differences between Russians and Brits. Brits are much more inward-looking and introverted, while Russians are extroverts at heart, past their cold facade. Russians can tell you their entire life story within the first few minutes of meeting you. With Brits you need to drag it out.
Favorite Russian dish: Russian cuisine is not "Russian" cuisine anymore. It has Georgian, Armenian and Azerbaijani influences - that is what makes it great. If I had to pick one "pure" Russian dish I would say pozharsky kotlety. You can make them with veal, or chicken. You then pour madeira into it, which makes it very tender and juicy and cover it with beautiful hand-cut bread crumbs. Just gorgeous!
Growing up among artists: I grew up in a very "theatrical" family. My mum was a ballerina and my dad was a musician. Our house was always full of music. I really admired my mum, her hard work and commitment to ballet. Later she moved on to become a choreographer and ballet master.
It was the Soviet time, so it wasn't very well paid - but she loved what she was doing. My father was in a jazz band - even at that time, when it was prohibited. He played the saxophone and the clarinet. He was a great saxophone player. I remember him practicing when I was little. My favorite composer was Gershwin. My father was part of a big band and they would often travel around Russia in the 60s and 70s playing concerts and touring. When I was 5 or 6, before I started school, I would often go with him. I loved travelling with him across the country. I would sit behind the curtain, listening to the music.
All rights reserved by Rossiyskaya Gazeta.