Winter sports: The next frontier in Indo-Russian cooperation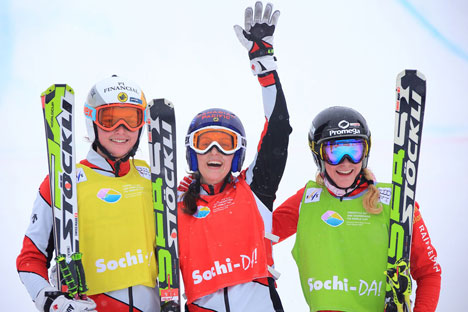 The Sochi Olympics are an ideal platform to make winter sports more popular with a more adventurous and open-minded young India. Source: Press photo
Russia, which has a long tradition of excellence in the Winter Olympics, can also play a big role in developing and popularising winter sports in India.
As an early winter sets in across northern and eastern India, many mountainous regions of India are witnessing snowfall. Although largely a warm and tropical country, some parts of India have what even Russians can call a real winter. Despite having the ideal terrain to produce some winter sports champions, India has produced just one winter Olympian, Shiva Keshavan, who will once again be the only person representing the country in Sochi.
The Sochi Olympics, the most expensive of all time, are an ideal platform to make winter sports more popular with a more adventurous and open-minded young India. A lot of this, of course, depends on how well Keshavan performs and how much media attention he gets in India while participating. Indian newspapers and television stations have been fairly generous in their coverage of the luge star's preparations.
Russia, which has a long tradition of excellence in the Winter Olympics, can also play a big role in developing and popularising them in India. With the expertise of the preparations for Sochi in hand, Russia could help develop Indian ski resorts and luge tracks in places like Kashmir, Uttarakhand and even the state of Arunachal Pradesh, which gets its fair snow in the Himalayan ranges. Given the sensitivity of the eco-system proper care would have been to be taken to ensure that the development is both eco-friendly and sustainable.
Besides, producing future Olympians, joint development of winter sports facilities also have the potential to help increase sports tourists to areas such as the country's northeast, which remains vastly underdeveloped at the moment.
Russian help can also come in the form of training Indian athletes in the country's world class facilities. In an interview with this publication in September, Shiva Keshavan said he was "amazed" with the facilities in Sochi. There are fears in Russia that many of these facilities may end up becoming white elephants like their summer counterparts in Beijing and London. A quick solution would be to use these facilities to train young Indian athletes who are interested in winter sports. This would be a win-win situation for the Russian sports authorities who could properly maintain these facilities and for Indian athletes, who would have world-class facilities and coaches to help them train for and compete in the highest levels of winter sports. Such training programmes would also go a long way in enhancing Russian soft power in the smaller and more remote parts of India, where the winter athletes would be expected to hail from.
Sceptics would argue that India has only produced only a handful of Olympic medal winners since it attained independence in 1947 and that the probability of a winter medal is next to zero. But Indian attitudes towards sports have witnessed a sea change in the recent past and being a professional athlete is not something that is completely frowned upon by the Indian middle and lower middle classes anymore. Besides, India is now fame-crazy as is visible from the number of children and young people taking part in reality television programmes. If there is more media attention towards the pioneers of winter sports like Shiva Keshavan and the young winter athletes of the future, a lot more families would be interested in their children taking up winter sports as a career. Greater interest in sports would also go a long way in promoting public health in a country that looks all set to have the largest population of diabetics and heart patients in the world.
Since the Indian Olympic Association (IOA) has been suspended, there is a possibility that Keshavan may have to take part in Sochi under the Olympic flag. However, a great performance by the Indian luger would bring a lot of focus on attention on to winter sports and pave the way for an Indian doing the unthinkable and standing at the podium with a medal around his neck at the Winter Olympics. One can only hope that once the internal politics, bickering and corruption issues at the IOA have been sorted out the authorities approach Russia as a partner to help develop winter sports in India.
Afterthought
There is no doubt that Shiva Keshavan is one of India's unsung heroes in the world of sports. For an Indian to excel in a winter sport and become a two-time Asian champion and record holder is no mean feat. The luger from Manali has managed to become a competitive athlete despite complete apathy from the government and virtually no support from sponsors who lavishly throw money at athletes playing the most popular game in India. Whatever happens in Sochi, Keshavan deserves high sporting honours from the country and adulation from the Indian public. He has well and truly earned them.
All rights reserved by Rossiyskaya Gazeta.