The lighter side of regional rivalries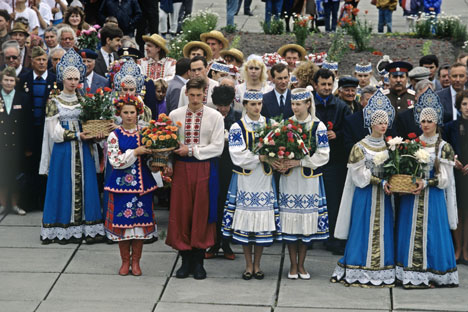 Russians and Ukrainians are culturally interlinked. Source: Ria Novosti / Yriy Kaver
Leaving political and nationalist friction aside, people from countries like Russia and India share a lot in common with those in their respective neighbouring countries. There's nothing wrong with some harmless banter as long as it is in the right spirit.
When a close Russophile friend of mine working for a large multinational in Bangalore visited Kiev (or Kyiv as our dear Ukrainian friends call it these days) he was thrilled to hear Russian being spoken everywhere and how "Russian" the locals looked. "Ah, this is Russia," he uttered in Russian, itching to practise a language in which he had an advanced diploma. Within seconds, someone else on the street screamed "Ukraine is not Russia!"
As he spent a few days in the city, he was told about how the "Moskali" were trying to usurp Ukrainian culture and claim the heritage of the country as theirs. Moskal is a historic term for a Russian (from the word Moscow) but has now become somewhat of an ethnic slur. The word may be used with increasing passion these days when thousands of young Ukrainians are lining up outside the city's main square demanding greater integration of the country with Europe. But my friend who was in Ukraine realised that at least among the non-nationalist elements, it was just a good way of poking fun at the bigger more dominant neighbour.
It's one thing for a person to have issues with a neighbouring country but it rarely boils down to a problem with individuals. In September, Vladimir Putin told a Russian journalist something that is more or less commonly accepted by people in both countries: "You know, no matter what happens, and wherever Ukraine goes, anyway we shall meet sometime and somewhere. Why? Because we are one people. And however angry the nationalists from both sides can be with my words, and there are nationalists in our country, as well as in Ukraine, this is in fact true." The same could easily be said about India and Sri Lanka, two countries that are even more interlinked than Russia and Ukraine.
Last month in Colombo, I patiently heard someone ripping India apart because Manmohan Singh was dilly-dallying over whether to go for the Commonwealth Heads of Government Summit or not. Obviously not knowing that I am an Indian, the man went on a rant about every bad thing India had done since the two countries attained independence. After his monologue was over, I told him I was from Bombay and the man suddenly smiled and changed tune, talking about how much he likes Hindi films and music. "I was talking only about the government machan (a word meaning brother-in-law, but used as a term of endearment in the country)." I am pretty sure that if I told him that I find my countrymen to be too loud in public, he would have agreed with me but been a bit more diplomatic in his condemnation.
The citizens of the big neighbours also have their own stereotypes and issues with the smaller countries. Just like Russians are termed as Moskali, the ethnic slur for Ukrainians in Russia is 'Khokhol,' which means a sheaf of cereal stalks and is the stereotypical Ukrainian Cossack hairstyle featuring a lock of hair sprouting from the top of an otherwise closely shaven head. The term applies to ethnic Ukrainians in general and even a Russian citizen with a Ukrainian last name may be termed a 'khokhol.' The word has far less offensive connotation these days. I once asked a waitress if she was from Belarus, since she was taking the order with a pen that had the Belarusian flag and she told me that she was a 'khokhluchka,' the feminine version of 'khokhol.' I couldn't control my laughter at her candidness.
The stereotype about the 'Khokhol' is that he is supposed to be cunning. There are enough people in Russia who think the current Ukrainian president Viktor Yanukovych is very cunning and made his decision to halt integration with the European Union keeping Ukraine's best interests in mind. Of course, this is not a convincing argument for those who are protesting this decision in Kyiv's city centre.
Many Indians also view the Sinhalese of Sri Lanka to be a cunning lot, but this is more or less based on what they read in the papers. Whenever Sri Lanka and India have ever negotiated any bilateral pact, the Indian media has made it look like the former has always gotten the better end of the deal. Even the Indo-Lanka accord signed between the two countries is looked upon as something that Sri Lanka managed to outfox India with, although the reality may be entirely different. Indian diplomats also crib about how brilliant and cunning their Sri Lankan counterparts are.
Whatever the stereotype, I have also been fascinated with the gentle and easy-going nature of the Sri Lankans and their openness and simplicity. Although my experiences with Ukrainians from Ukraine tend be more limited, I could easily say the same about the people that I do know personally.
Big neighbours or small, we need to spend more time in each other's countries and laugh with and at each other and ourselves. Life's seriously too short to let nationalistic rhetoric cloud our judgement.
All rights reserved by Rossiyskaya Gazeta.