A bird's eye view of corruption in Russia and India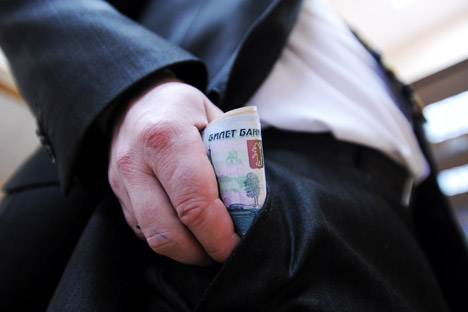 Corruption is a problem that plagues Russia and India. Source: Itar-Tass
There is a big difference in both the scale of corruption and the way it affects the common person in both countries.
A young entrepreneur and fellow Bombayite I knew in Sakhalin successfully ran an Indian restaurant for over 5 years. He was fluent in Russian and went out of his way to comply with all the rules and regulations in the country. At a time when even multi-national oil companies misused 1-year multi-entry business visas to employ their executives on the island, this friend made sure that each of his Indian cooks, waiters and managers had valid work permits. A model expat in Russia, if there ever was one, the man was well-respected by the locals and foreigners alike.
One summer when there was a law banning sale of alcohol from bottles without the right excise label, this friend fully complied until he received bottles with the new labels. He made one small error: he still had a couple of bottles of rather cheap vodka (200-odd roubles per bottle) with the old labels, which were not for sale. As bad luck had it, on a day when he wasn't at his restaurant, there was some kind of official raid and he lost his liquor license, when those 2 bottles were discovered.
At the peak of the business and tourist season, his restaurant could only serve beer. It turned out to be a huge loss at that time and a Russian friend who was a regular customer offered to help. "I can get you back your liquor license in a day," she said with a tremendous amount of confidence, "if you pay my husband two thousand dollars." He refused to pay the bribe and decided that he'd follow the proper legal route and his restaurant's liquor license was finally reinstated in two and a half months. He definitely lost more than the two thousand dollars that he would have had to pay but said he was glad he went through the proper channel.
In Transparency International's 2013 Corruption Perceptions Index, which measured the perceived level of public sector corruption in 177 countries, Russia was ranked in 127th place, while India's rank was 94. Not even the most hardcore supporter of both countries would disagree with the fact that corruption is a (common) major problem. However there are some fundamental differences in the scale of the problem in Russia and India, how it affects the common person and the measures being taken by the respective authorities.
When it comes to corruption in Russia, there is always a longer and official way to get anything done. Right from work permits to entry permits to restricted areas and all types of documents, if you follow the long and standard procedure, you will get what you are entitled to even if it takes frustratingly long. Foreigners, unlike my Bombayite friend, often lack the patience to wait it out and when in Russia, the torch-bearers of virtue often leave their values behind at home.
I have always believed that in Russia the best way to fight corruption is to avoid the easy way out and go through the proper channels. That would mean, never mess around with any regulatory procedures. Ten years ago, on a long trip from the far eastern end of the country to the White Sea, I travelled only by ferries and trains and often making sure that I stayed in a town for less than 72 hours to avoid the mandatory registration procedure. There were enough opportunities to pay an agency (which would then bribe officials) and get an official registration, which may have made my travels a bit easier in case I was questioned, but I knew I wasn't violating the law at that time by being in a new place for less than 3 days. A month and a half later, when I had to fly back to the Russian Far East, I was asked by the airport police in Moscow as to when I left the place I am registered in. The officer asked me to show my registration in the places that I had visited, but I had all my ferry and railways tickets on hand in a nice box. He laughed when he saw all of them and said I played with the Russian law but technically I didn't do anything illegal. He even praised me for my creativity!
The most glaring problem when it comes to corruption in India is the fact that there are certain bureaucratic hurdles that just cannot be overcome without bribery. Unlike in Russia, where there is a lengthier and official way of getting things done, in India, petty government officials have made an art form of extracting bribes and made it the only way. These bureaucrats enjoy the blessings of those above them and there is rarely a serious crackdown on them, unless someone has a personal axe to grind.
Russia's former defence minister Anatoliy Serdyukov, who was dismissed last year, faces a slew of corruption charges. Even the harshest critics of the present regime don't call these charges politically motivated or an act of personal vendetta. There seems to be a genuine understanding that corruption is a cancer in Russia and the president is sincere in his efforts to curb this menace. Compare this to India, where an outdated legal system provides protection to the most corrupt whereas a large number of petty thieves rot in the worst possible conditions in jail. It's unclear whether the present regime in India is responsible for more corruption than any other in India or if it's just a more proactive and competitive media that is highlighting every single scam in sight for readership and ratings. The fact the largest party in India's coalition was trounced in recently-held regional elections may just indicate that an apathetic Indian middle class may no longer just be indifferent to corruption.
Given the seriousness of the authorities in Russia when it comes to dealing with the problem and the lack of it across the political divide in India, I see the countries heading in opposite directions when it comes to corruption. Let's hope the situation improves in both countries.
All rights reserved by Rossiyskaya Gazeta.