Russia as a destination for Indian expats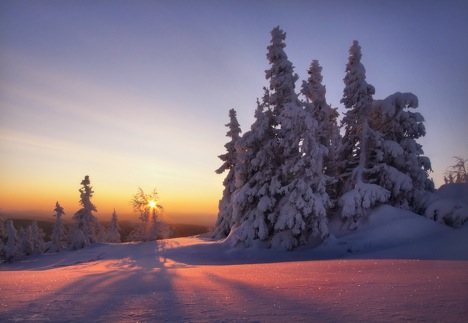 The beautiful and pristine nature is one of the best reasons to live in Russia. Source: Sergey Makurin
With an abundance of professional opportunities, beautiful nature and an open society, Russia can be an exciting place to spend a few years.
Now that Russia's image is improving at a rapid pace in India, more curious young Indians have started asking me about the prospects of migrating to or just working in the country. These people range from those seeking their own version of a Maria Sharapova to some of the more serious and focused members of the youth who ask about the professional opportunities on offer.
For starters, I can safely say that there is still an abundance of opportunities in the country but Russian life in the big cities is neither easier nor more difficult than what one witnesses in some Indian metros. As is the case in places like Mumbai and Delhi, housing rents are ridiculously high in Moscow and even St Petersburg to an extent and people tend to spend a big chunk of their day travelling just to get to work. My closest colleagues in Moscow travel between one and a half to two hours a day, having to change modes of transport and metro lines before getting to the office, which is bang in the city centre.
The bureaucracy for foreigners is more or less on equal footing in both countries. Many of us in India don't realise how much an expat in the country has to deal with when it comes to red tape.
The cost of living in Russia is much higher than in India but salaries are also proportionally higher and most people I have come across end up saving around the same amount of money they would in either place. There are those who worry about the food in Russia, but vegetarian food is increasingly available in bigger cities and cooking at home is obviously a more economic option. For those who want to eat only Indian food, other than advising them to stay back in India, I can suggest some stores in cities like Moscow where you can get Indian products (of course at a premium).
I wrote about safety issues in this article recently and once again stress that it's only reckless behaviour or the worst kind of luck that can get someone in serious trouble.
So what makes relocation to Russia worth it?
Russia's greatest appeal lies in a completely different and unique culture that is a result of cohesive eastern and western influences. In my opinion, Russian thought and philosophy have managed to strike the right balance between oriental and occidental thought. What particularly struck me about the way of life in Russia is the fact that the youth, despite being fiercely independent, still hold on strongly to family values.
Russian society tends to be open and if a "guest" takes the initiative, there is no limit to how far locals will go to help someone fit in. It's easy to say that a best way to a Russian's heart is through the Russian language. The "good-guy" image that India has and the mass appeal of Indian culture don't harm an Indian's chances of becoming a part of Russian society.
Few places in the world offer as much freedom and adventure as Russia does with its vast and great outdoors, which has thousands of miles of unspoilt nature. Most people in India associate Russia with the European part of the country and Moscow and St Petersburg, but these cities are just the tip of the iceberg. There are a handful of foreign entrepreneurs who have set up shop in places like Siberia and the Russian Far East and these are the very people that get the best of both urban life and nature. Just like the tier-2 cities in India have preserved the culture of the country better than the metros, the further away someone is from the capital, the greater the chance to be witness real Russian life.
Anti-migrant sentiment
The Russian and international media have reported extensively on the anti-immigrant sentiment in the country, but what most reports seem to miss is the fact that the anger is almost exclusively directed against unregulated blue-collar immigration. The entire class element has been neatly swept under the carpet by irresponsible journalists. Resentment against the lowest rung of immigrants is common in just about every part of the world and even a place like Singapore isn't immune to this. One just has to read the comments on social media after this week's riots in the city-state to understand how many people feel about blue-collar workers.
Attitudes towards specialist and white-collar expats tend to remain largely positive in Russia as they would be anywhere.
More than migration per se, I would strongly recommend that an Indian work a few years in Russia and see for himself or herself whether this is a country worth settling down in. It's usually the youth, who tend to be more open-minded to another way of life and for that reason a young Indian professional is likely to be the most comfortable in Russia.
All rights reserved by Rossiyskaya Gazeta.