London is living in a world of possibilities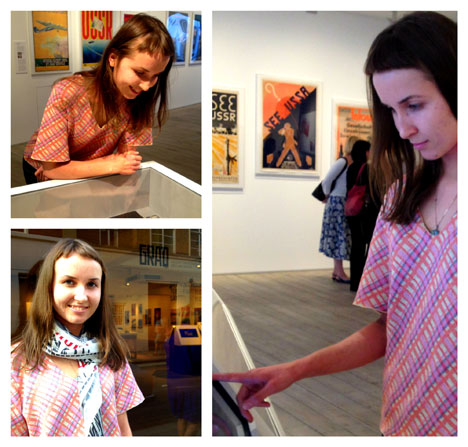 Aliya from Moscow tells us why she fell in love with London and shares some memories from her childhood in Russia.
Aliya Sayakhova
Occupation: Research Assistant at GRAD: Gallery for Russian Arts and Design
City of origin: Moscow
From Russia to Britain: I originally came here to do my MA at the University of Warwick, and also got to spend some time in Paris and London. Part of my MA was actually based in the Wallace Collection building, which houses an amazing selection of French and European art, right in central London - it was great to go there every day and be surrounded by those beautiful art pieces.
Moscow vs. London: To be honest I can't say that I saw London as my living destination. This is what life led me to – I just take chances and sometimes it brings positive outcomes. I like London and feel comfortable here. I like the people, the atmosphere, and what is most important to me – my professional career. There is much more happening in London than there would be in Moscow. And the level and scale of things happening here is just much more exciting. For me working in the art world, Moscow seems a village now...
What is important for me is that I live in a world of possibilities. Here in London everything is up to you: you are free to choose your path, you can travel and explore different countries or can just explore different career possibilities. You don't have to be stuck in one little box. And this is freedom.
Falling in love with London: I think I fell in love with London at first sight.
As I arrived from Paris I had five suitcases with me and I was completely terrified. How would I manage with all that luggage? As it turns out, I had almost no problem, because every single man I came across would come up and offer help. I was completely enchanted. This never happens in Moscow. And because people were so kind to me, I now try to do the same... The moment I arrived at Kings Cross station I thought: OK, this is my place, I like it. I've never thought of myself as a tourist here. I tried to be very productive from the very beginning, while in Paris for six month I felt like a permanent tourist.
Life in London as a Russian expat: It's always ups and downs. Sometimes I feel completely at home with the British people here, while sometimes I feel the need to spend a few hours just sitting and chatting with my Russian friends.
A Russian book to recommend:Dostoevsky's 'The Brothers Karamazov.' Everyone knows that Dostoevsky is great, but most people only think of 'Crime and Punishment' in relation to him. I personally think that 'The Brothers Karamazov' is one of the biggest achievements in world literature. For me it's "everything in one book": the beauty of the description, the language, the meaning behind and the way he put it all into this big picture which you can absorb. You end up feeling like you live with the characters: you love some of them, you hate others.
Favourite place in Moscow: The Kitai Gorod district, with its tiny streets, hidden places, cafes and galleries. And it's strange but I miss Russian streets. Whenever I read the name of a Russian street - and sometimes I can't even remember what the street looks like - I have bits of images that starts floating in my head, and I miss it.
Favourite place in London: Dalston. I feel life is cool when I am there: everything is cool, people are cool, you are cool.
All rights reserved by Rossiyskaya Gazeta.