The joy of a Russian winter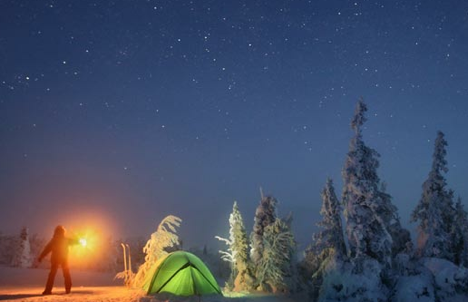 Winter is a great time for adventurers. Source: Sergei Makurin
Despite popular beliefs to the contrary, a few minor adjustments are enough to make the most of the beautiful and glorious season.
Few things intimidate or fascinate potential Indian visitors to Russia more than the perceived severity of a Russian winter. I found it particularly funny when a teetotaling school teacher at the Indian Embassy's Kendriya Vidyalaya (Central School) and her two children had a tablespoon full of vodka every morning like cough syrup to stay warm. One of her colleagues who spent three years in Moscow told her that this was the best way to keep the body warm all day! It would have worked best as a placebo more than anything else; but a Russian winter, particularly the "mild" versions you get in the capital are hardly as menacing as what Napoleon's army faced two centuries ago. Winters should never be taken lightly but then they aren't what they are made out to be either.
A lot of people who are used to the cool winters of the north Indian plains assume that life is a daily struggle in Russia to beat the cold. It most certainly would have been the case if there wasn't a magical invention called centralised heating. When temperatures fall to single digits in Delhi, most people rely on small electric heaters and thick woollen blankets to stave off the cold. In most Russian towns and cities, the central heating gets turned on as soon as the average temperature falls below 10 degrees Celsius. In a country that is not particularly known for its contrasts, it's a nice feeling to wear t-shirts and shorts indoors and watch the snow fall outside.
Preparations for the winter are taken very seriously in the distant regions of the country, which experience what I would term as real winters: Temperatures of minus 20 degrees Celsius and below. One commendable feat that I witnessed in four harsh and severe winters in the Russian Far East was the fact that no matter how much the snow piled on, there were no power cuts, no disruptions in the supply of warm water or heating. Airports would be closed if there was too much snow and ice on the runways, but I remember sharing a laugh with friends when we saw visuals of chaos in London after the city received a few inches of snow.
The worst snowstorm that I personally witnessed did make me a prisoner in a friend's home for a few days. The level of snow was higher than the main entrance to the building and there was no way I could leave. The apartment was well stocked with food and drinks and we just saw the storm off and watched the city of Yuzhno-Sakhalinsk slowly inch back to normalcy. These kinds of occasions are rare and handled well whenever they happen.
It is easy to dress for the occasion when treading outdoors. Thermals, a shirt, thick trousers or jeans, a sweater, gloves, a ski cap and a winter coat are enough to tackle the average winter day. There is a far greater danger of slipping and falling on the ice than there is of freezing. It takes a cultivated skill to be able to walk fast on the ice, and I tip my cap to the Russian women who wear heels and run on the ice with grace and effortless ease.
Winters are also a wonderful time to explore the great outdoors. Even if you're not into skating, skiing or skateboarding, there are plenty of nice and healthy activities that can be undertaken in a winter. Many Russian cities have forests just on the outskirts and the trails blazed by the skiers are a great place to go for a walk on a sunny afternoon. The sheer joy of having nature almost to oneself makes a walk on snowy woods worth it.
For those into more extreme sports, I would recommend a swim in a lake or in the sea. It's only the top levels of the body of water that's frozen. So all one has to do is a drill a hole and jump in. The temperature of the water is obviously much warmer than that of the air and the body naturally warms up. There isn't a greater adrenaline rush than a mid-winter swim, particularly in the Sea of Okhotsk, which is essentially the North Pacific Ocean. There's also a time-honoured Russian tradition of going to the banya or sauna. As is the case in many Nordic countries, visitors to the banya warm their bodies enough and run out naked into freshly fallen snow. This is an activity that comes close to swimming in the winter on the adrenaline level.
Russia is definitely meant to be experienced in the winter. The pristine beauty of a Russian forest, layered in freshly fallen snow is one sight that every traveller must witness.
All rights reserved by Rossiyskaya Gazeta.