A visit to Rosatom's Tvel factory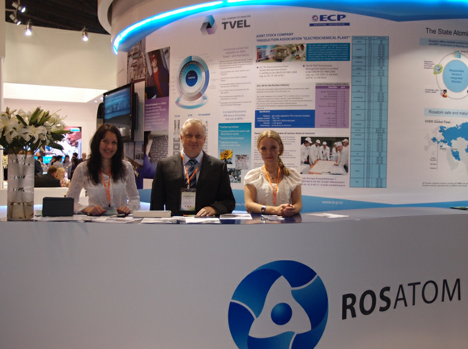 Tvel - acronym of Russian words 'teplo vydelyayushi element' (heat emitting element), today has 17 percent share in the global nuclear fuel market. Source: Press Photo
After a tour of the main production facility of Russia's state atomic energy corporation, Vinay Sukhla has become less apprehensive about nuclear energy.
Amid the campaign against the Russia-built Kudankulam Nuclear Power Plant (KNPP), said to be sponsored by foreign NGOs, Rosatom, Russia's State Atomic Energy Corporation is trying to make inroads into Indian hearts and minds.
Last month it organised a photo exhibition at the Russian Centre of Science and Culture in New Delhi to demonstrate a human face of civil nuclear energy. Photo exhibitions were earlier held in Chennai and Trichy in Tamil Nadu and Kerala's state capital Thiruvananthapuram. However, an offer to this writer to visit some of Rosatom's facilities in Russia and attend a Moscow seminar on civilian nuclear energy turned out to be a pleasant and quite educative surprise.
Like any mainstream journalist, I also had many misgivings about atomic or nuclear energy per se. Anything connected with nuclear conjures images of World War II documentaries about the American atomic bombardment of Hiroshima and Nagasaki in August 1945, the Chernobyl nuclear accident in and the most recent accident at Fukushima-1 in Japan.
Rosatom earlier in December organised a tour for the foreign media to the main production facility of its nuclear fuel company 'Tvel' in Elektrostal town about 60 km east of Moscow. I knew that in the Soviet times it was closed for the foreigners, so naturally there was excitement to see the place, but there was no less anxiety. After all, nuclear fuel is supposed to be very radioactive and who knows what dose of radiation I would get in the course of the visit.
On a frosty December morning an hour and half long drive took us to the town of Elektrostal and our bus stopped on Karl Marx Street in front of a neat and cosy two storey building with flags of Tvel Nuclear Fuel Company and Elemash- its flagship nuclear fuel fabrication facility. Even before we got off the bus, the chief security officer of the plant checked our passports and asked each of us to sign an undertaking that we will not indulge in video and photography and will not take or use any other kind of digital data equipment inside the premises of the plant.
After entering the administrative building of the mechanical plant, that's how one of the world's biggest producers of nuclear reactor fuel is officially known, and boarding another bus inside the vast territory of the facility we proceeded to a large red building of Shop 55, the nuclear fuel fabrication unit. Inside we were given disposable white aprons, caps, cotton gloves and masks, similar to the one given to visitors of a pharmaceutical factory.
Actually, the manufacturing process of nuclear fuel pallets resembles the tableting process at a pharmaceutical factory and has similar production lines, albeit with some technological differences. In the first case, uranium dioxide powder is used, while pharmaceutical plants use powder of various bulk drugs.
The most surprising thing is that there were no other visible measures, which one could expect to encounter at a nuclear facility.
But I got the shock of my when one of the supervisors opened a small inspection outlet in the glass covered production line and took out couple of fuel pallets and put them on my palm, protected only by a knitted cotton glove generally used by ordinary factory workers. Seeing my hesitation the supervisor laughed and said that the level of natural radiation in the thorium-rich sand of Indian beaches was much higher than in the pallets I was holding. Until irradiated inside the reactor the fuel was absolutely safe.
This explains why the airlifting of tonnes of nuclear fuel by cargo aircraft is considered safe.
A uranium fuel pallet weighing only 4.5 grams emits energy equal to two thousand kilowatts, enough to last for an average household for a whole year. These pallets are filled in zirconium tube cladding and assembled in more 3.5-metre long hexagonal cassette called - fuel assembly, capable of withstanding extreme temperature inside a nuclear reactor.
We were told that each of two VVER-1000 light-water reactors of KNPP have 163 fuel assemblies comprising of 153 claddings filled with fuel pallets.
Tvel - acronym of Russian words 'teplo vydelyayushi element' (heat emitting element), today has 17 percent share in the global nuclear fuel market, which is expected to grow to 45 percent by 2025. Currently it is supplying fuel for 15 power reactors and 30 research reactors in 17 countries including India.
On the day of our visit the two functional lines at this plant were making nuclear fuel pallets for French nuclear giant Areva NP and India. It is known that in the past, this plant, which makes fuel cassettes for all types of reactors, including the US and other Western-made reactors, has supplied nuclear fuel to keep Tarapur NPP operational, in spite of the Western ban on civil nuclear commerce with India. Even after the lifting of the ban by the Nuclear Suppliers Group of 40-odd countries, Russia has been designated as a country to maintain uninterrupted supply of nuclear fuel to India, if the US and other western nations are unable to do so in case of constraints under their domestic laws.
All rights reserved by Rossiyskaya Gazeta.