Indo-Russian wish list for Ded Moroz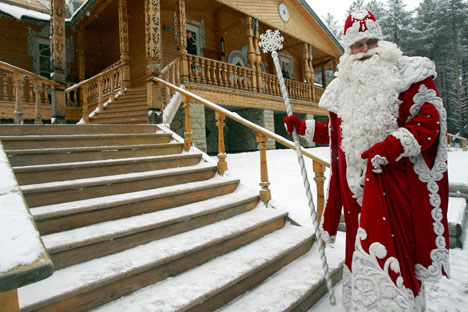 Ded Moroz is known for his generosity. Source: PhotoXpress
With less than a week to go for the New Year, RIR's deputy editor requests Grandfather Frost for 5 things that will help make 2014 a better year for the people of India and Russia.
Dear Ded Moroz,
Ever since I came to know of you ten years ago when I first moved to Russia, I have resisted the temptation of asking you for New Year gifts. There were always those who needed things more than I did, but you'll agree that making a request once in ten years is not such a greedy proposition. Besides, the five presents that I ask for would make a lot of Indians and Russians happy and it's more for them that I make this request:
A Mumbai-Moscow direct flight
India and Russia have set a bilateral trade target of about $15 billion for the New Year. Wouldn't it be much easier if the large business community from India's financial capital had a direct flight to Moscow? I'm not asking for 3 flights a day to the Russian capital, but how about a daily service or even a flight every alternate day.
It wouldn't just help the business community in both countries. A lot of us in the biggest metropolises of the countries would visit each other more if we were safe in the knowledge that we didn't have to take inconvenient connections from Delhi, Doha or Dubai.
A medal for Shiva Keshavan in Sochi
The Indian luger is a personification of grit, determination, commitment and focus. Against all odds, Keshavan managed to qualify for 6 Winter Olympics. He is also the Asian champion, despite getting almost no support in terms of sponsorship, exposure or attention. It look a campaign from film stars and athletes to help him raise money to buy a world-class sled.
Now, imagine if he wins a medal in Sochi! This would have to be classified as the greatest achievement by any Indian athlete (even if he has to do it under an Olympic flag!!). Keshavan would be the toast of India and would popularize winter sports in the country once and for all. It would also create a tremendous interest for Sochi in India and the jet-set pack would make a beeline to visit the beautiful city.
Scholarships for students and teachers
An increasing number of students are learning Russian across India. Even school-children in Manipur have the opportunity to learn this rich and beautiful language. What could be a better way of encouraging more people to learn the language of Pushkin and Tolstoy than offering scholarships to Russia? These students who get to study the language in the country would automatically become cultural couriers of modern-day Russia.
When I say modern-day Russia, I mean the country that we know and love as it is today, and not the Soviet Union. This brings me to why, it is essential for Russian-language teachers to be awarded scholarships for refresher courses. We're sure that many of them had a great time studying in the USSR, but they need to come, see, feel and taste the reality of contemporary Russia, so that they can teach their students about how wonderful a country Russia is today and not dwell on yesteryear.
Russian food in India
There are two types of Indians in this world: One that insists on eating Indian food wherever they go and the second that is adventurous and open to various cuisines. If Russian cuisine is slightly modified to Indian tastes and vegetarian versions of popular dishes are available in India, then the second type of Indians would relish traditional Russian delicacies.
Cities like Delhi, Mumbai and Kolkata need at least one Russian restaurant or café. I sure would love to have some borsh and golubtsi and a host of Russian salads once in a while in India. An authentic Russian restaurant would be the best way to avoid long sessions in my own kitchen.
In the meantime, would it be so difficult for Russia to export some of its fine chocolates and kvass to India? There are enough Russophiles in India who would be happy to pay a premium to buy these products.
A Mumiy Troll concert
What could be a better way of promoting Russian soft power in India than a well-publicised concert of Mumiy Troll? Ilya Lagutenko and his team, which I consider the finest rock band in Russia, could become legends in India. The youth of Bangalore, Mumbai and Shillong would relish a concert by Mumiy Troll.
The band, which was founded in Vladivostok, has held many successful concerts in different Asian cities, including Hong Kong and Shanghai. It's time for them to come and perform in front of a large Indian crowd, which knows how to appreciate a good rock concert.
As you can see, my wish list is quite simple, but would take cultural and business relations to an altogether higher level. So, Ded Moroz, please grant me (and the people of Russia and India by extension) these 5 gifts in 2014.
Yours faithfully,
AK
All rights reserved by Rossiyskaya Gazeta.