Common values bind Russia and India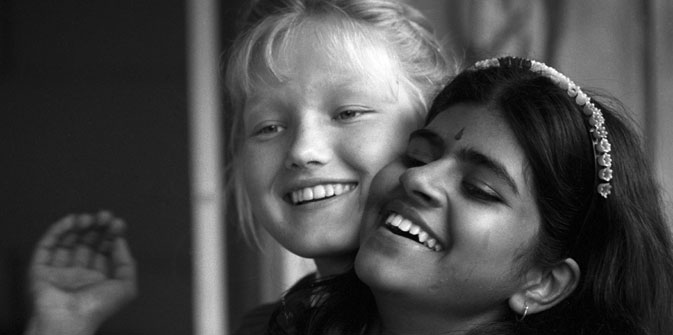 Happy moments in a Pioneer camp. Source: RIA Novosti / V. Akimov
Whether it's a stand taken by diplomats on an international issue or a local matter among common people, both countries largely believe in and abide by principles.
Many a time, third parties acknowledge the friendship between Russia and India with a mix of bewilderment, scepticism and even envy. It's not uncommon to hear 'reasoning' on the lines of "it's because India buys so many weapons from Russia" or "you don't share a common border" or "this is just a way of standing up to America." It's only natural that a trained western mind looks at everything through the prism of interests. When their own governments distinctly maintain two sets of rules for themselves and "the others," it is easy to think that hypocrisy is a norm that governs international relations. The truth definitely lies elsewhere.
The foundation of the strong friendship between Russia and India is the great degree of esteem that the members of the intelligentsia hold the other country in. Indologists in Russia, despite knowing about India's vast problems, still have the greatest respect for the country. My personal interactions with them have left me astounded as these India experts view the country from an altogether different and macro perspective. There will be no arguments from my end that India has been largely mismanaged by the ruling class since it attained independence in 1947 but then we're talking about a country that had a literacy rate of 12 percent in 1947! "Colonialism set India back by more than 500 years," a Russian Indologist friend once told me, backing his statement with a series of facts and figures.
Russophiles in India also tend to look at Russia from a broader angle. Here I talk about those who are genuinely interested in Russia and not those who have this nostalgia for the USSR since they benefitted from Soviet junkets. The Indian intelligentsia recognises the fact that Russia contributed culturally to the family of nations long before the Bolshevik Revolution. The Russian interest and fascination for India obviously predated the 20th century. Following the visits of Afanasy Nikitin of Tver and Gerasim Lebedev, a long line of spirituality seekers, adventurers and intellectuals from Russia including Nicholas Roerich and Ivan Minayev came to India. Even Konstantin Stanislavski took an active interest in yoga.
The main reason why people from two countries so far away from each other managed to establish such strong bonds before the advent of modern travel and long before the information age, is the sharing of common values. Whether it's a stand taken by diplomats on an international issue or a local matter among common people, Russia and India largely believe in and abide by principles. Which is why, both countries are working together to prevent coup d'états and uphold international law. It never ceases to amaze me how countries that blow their own trumpets when it comes to democracy and rule of law, spend billions not only in backing dictators and authoritarian regimes, but also arm and train rebels seeking to illegally overthrow legitimate democratic governments. Traditionally the Indian and Russian states have principally opposed racism and this was obviously why they fought hard against the apartheid regime in South Africa, which was backed to the core by the so-called egalitarian West for decades. But then again, all this is done in the name of "interests" and that concept might just be a core value of countries that have the "do as I say, not as I do mentality."
Over the last few decades, Russians and Indians have witnessed fluctuating fortunes with hardships being accepted as a part of life. This is precisely why we have a tendency of seeing the beauty in the middle of ugliness. If there's one thing I have noticed about my Russian guests in India, it's their tendency to photograph the more beautiful things they see in the country. Sure, some of them do take pictures of slums, but they don't have the sheer focus, passion and determination to highlight the ugly side of India that our friends from the West have made a hallmark of their visits.
I remember travelling once with European friends in Siberia and comparing the photos I had taken to those of my friends. After looking at their pictures of run down and abandoned buildings, drunks, old cars and random strange objects, I was wondering whether we visited the same place! A facetious and condescending argument I have heard both in India and Russia from such people is that they are used to seeing such beauty in their own countries, but they don't have much of the uglier things and that's what would interest their friends and family back home. It would have been easier to sell such non sense to us back in the days when we didn't travel as much to their countries as they did to ours, but seriously, few people in Russia and India would fall for the notions of a "perfect" western country. No matter how much cities in Russia and India improve, we have to be mentally ready to accept that a large number of westerners will come with a steely determination to spot the ugliness in our countries, since they need these things to cling on as their civilisations are in a rapid state of decline.
The most important common value that Russians and Indians share is a realistic outlook. This means an acceptance that our countries are not perfect and that we need to usher in positive changes in many areas of life. It is understood that there is always room for improvement and that better things are yet to come. With stepped up bilateral and multilateral cooperation between the governments and growing people-to-people contact, this is a journey that we are embarking on together.
All rights reserved by Rossiyskaya Gazeta.