Public editor: Ukraine, Lenin and Sochi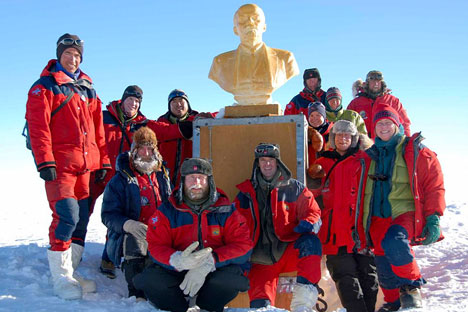 The most inaccessible monument to Lenin. Source: Press Photo
This is the first installment of what will become a weekly column, published on Fridays, discussing our most-read and most-commented articles of the week and addressing any comments and complaints made by our readers about our stories.
This week marked the 90th anniversary of the death of Vladimir Ilych Lenin. Lenin remains a divisive figure in post-Soviet Russia, and RBTH opted to cover the anniversary in several ways.
We took a more serious look at the issue with a society article in which our reporter asked Muscovites of different backgrounds what they thought about Lenin.
We also provided two lighter stories: one about about Lenin in popular culture and a travel-oriented story focused on five of the more than 6,000 Lenin monuments remaining in Russia: Lenin lives on in bronze and on screens around the world and Top 5 Lenin monuments in the country
The topic generated significant and substantive discussion on our Facebook page, with a few comments also on our site. I particularly liked this excerpted exchange on Facebook over statues of Lenin:

Over the course of the week, Independence Square in Ukraine erupted in more protests, which this time around resulted in violent clashes between police and protestors and the "Orwellian' use of text messages to notify people that they had been identified as participating in riots.
On the topic of Ukraine, our correspondent went to Kiev and filmed a vox-pop with people on the street.
We also featured an opinion text by an expert on international relations.
Although it could be argued that we should have had more news reporting on this topic, we decided that as a news organization devoted to Russia, it was not our role to provide news coverage of the situation in Ukraine, but rather to try to provide angles on the subject not widely covered by other media.
Finally, as the countdown to Sochi 2014 intensifies, so does our coverage. Over the weekend, a social media campaign to encourage readers to participate in a haiku contest was picked up by Buzzfeed, with some interesting results.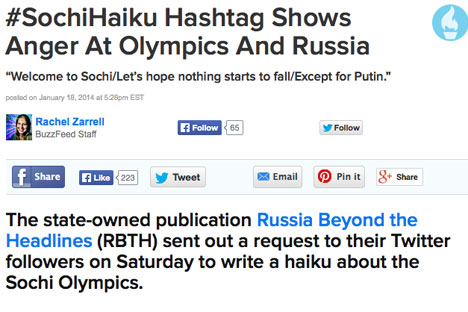 We appreciate that the topic of the Olypmic Winter Games in Sochi is a controversial one, and we welcome all feedback from readers. While much of our coverage has focused on sports teams and topics like mascots and uniforms, we have provided updates in our news section on issues such as security and human rights.
Admittedly, we should be providing more longer analysis on these topics and it is our intention to do this as the Games get closer.
To comment or suggest topics for this column, please email US@rbth.ru
All rights reserved by Rossiyskaya Gazeta.