Olympics: Unhealthy interest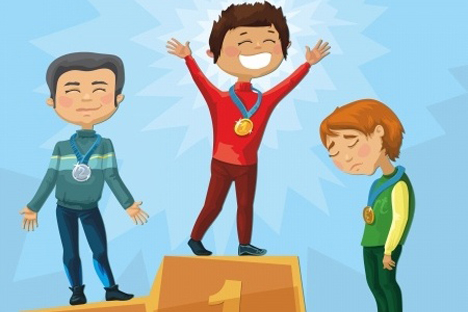 Image: Olga Shumailova/123RF.COM
Today's episode deals with the most exciting part of any sports event: competition.
Image: Olga Shumailova/123RF.COM
The thrill of winning, the frustration of losing, and the strange connection that exists between the athletes and their fans. Also, learn how the concept of rooting is linked to being ill in the Russian language.
Listen to the audio lesson.
vocab
болеть [bah-LYEHT'] — to root, to be ill
я болею [yah bah-LYEH-yuh] — I'm rooting (for smb); I'm ill
болельщик [bah-LYEHL'-scsheek] — fan
команда [kah-MAHN-dah] — team
фанат [phah-NAT] — fan
победа [pah-BYEH-dah] — victory
победитель [pah-BYEH-dee-tyehl'] — winner
медаль [myeh-DAHL'] — medal
золото [ZOH-lah-toh] — gold
серебро [syeh-ryeh-BROH] — silver
бронза [BROHN-zah] — bronze
первый [PYERH-vyi] — first
второй [VTAH-roy] — second
третий [TRYEH-tiy] — third
To learn more Russian with our extended course, register on RusPod.com and get a free 7-day trial, or subscribe to our complimentary course at OpenLanguage.com.
All rights reserved by Rossiyskaya Gazeta.