Public editor: Abortion, the secret language of Putin and Tolstoy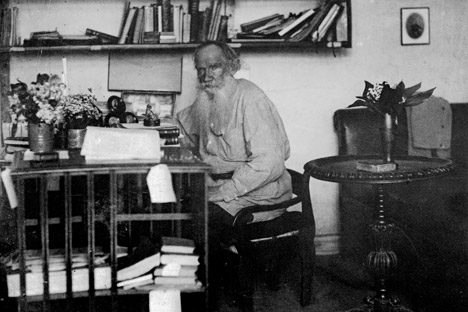 This week RBTH readers discussed how Leo Tolstoy would use the internet. Source: Photoshot / Vostock Photo
This week, readers discussed Russia's abortion rate, learned how to interpret President Vladimir Putin and debated whether or not Tolstoy would have been on Facebook.
Last week, anti-abortion activists gathered on the Mall in Washington, DC for their annual Right to Life March, held each year on the anniversary of the Roe v. Wade Supreme Court decision, which made abortion legal in the United States.
Abortion is not the hot-topic political issue in Russia that it is in the U.S., but nevertheless our story this week on the subject generated serious discussion among our readers. For many years, abortion was the primary form of birth control in Russia and the practice remains fairly common.
Although rates have declined in recent years, these numbers are attributed to an increase in living standards and an ongoing campaign by the state to increase the birthrate rather than any concerns about morality.
The comments both in the story and online centered around the need to increase sex education and awareness of other options in Russia while making sure that abortion remained safe and legal.



This text was a real example of RBTH fulfilling its mission to show readers stories from Russia not often discussed in the international press.
Although we don't usually like to feature stories about Russian President Vladimir Putin (especially if he's wearing a shirt), this tongue-in-cheek interpretive guide to understanding Kremlinese got our readers talking.
Some readers suggested that U.S. President Barack Obama could learn something from Putin's style while others said that actually, Putin learned everything he knows from Italy's Silvio Berlusconi.
Don't be afraid to let us know what you think. We hear you!
Finally, literature, particularly classic Russian literature, has always been a popular topic for RBTH readers and this week's interview with Leo Tolstoy's great-grandson Vladimir Tolstoy was no different.

Readers happily weighed in both on our site and on Facebook on the question of what Tolstoy would have thought of the Internet. The consensus: the great writer would have been a fan of the Internet, in the words of one reader, as a means of connection and communication.
And what about the security situation in Sochi – the top story in the international press this week about Russia? Unfortunately, RBTH's coverage of this topic was not strong. We featured one news text and a recap of an interview Sergei Kislyak, Russia's Ambassador to the U.S., gave to CNN on the subject. Both stories reinforced the Russian position that the Games will be safe.
While this is the official position, it is also what our team believes: Our experience as residents of Russia and the reports from our friends and colleagues in Sochi indicates that security at the Games will be extremely tight and that every measure will be taken to prevent any attacks on the Olympics.
To comment or suggest topics for this column, please email US@rbth.ru
All rights reserved by Rossiyskaya Gazeta.