Russia's, "Desire of Flight," wins the prestigious Golden Clown Award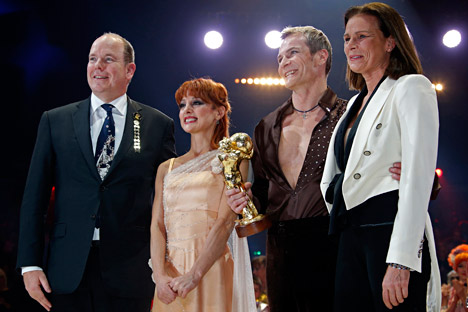 Desire of Flight artists Valery Sychev and Melvina Abakarova (second left), pose with Prince Albert II of Monaco (left) and Princess Stephanie (right) after receiving a Golden Clown award. Source: AP
Melfina Abakarova and Valery Sychev perfomed with a new aerial strap act in Monte Carlo.
When I first met Melvina Abakarova in Reno, Nevada, in 1990, she was 17 and pregnant. She was on tour with her mother and father, both famous highwire walkers who trained their daughter to walk the wire as well. Her early circus years in fact, were spent in the air, executing high-level tricks on a thin wire. Like mother, like daughter.
Fast forward 23 years. I met up with Melvina again, with her husband Valeriy and daughter Katya, now 22. This time they were in Queens, New York, traveling with the Big Apple circus, New York's flagship big top.
Melvina and Valeriy had a new aerial strap act, called, "Desire of Flight." It was breathtaking. And apparently an international jury of the world's leading circus specialists thought so too when they awarded it the, "Golden Clown," at the recent international circus festival held last January in Monte Carlo. The festival is the annual Olympics of the circus world. Each year only a select few of the world's most acclaimed artists are invited to compete.
Desire of Flight. Source: YouTube
"Desire of Flight," is a story about a woman in love with a man who ignores her. "It's an unusual act," said Abakarova, noting that often circus acts these days tell a story and not jut display high level tricks. "Usually circus acts tell typical love stories about a man chasing a woman, with a happy ending."
Not so in Abakarova's act, which, in addition to boasting an unusual storyline, demonstrates unique, spectacular tricks, including a rarely seen, 'feet to feet,' balancing act in the air whereby Valeriy hangs from the strap with his body up straight up and Melvina hangs from his feet upside down, with her head facing down. There are so many poetic movements and complicated maneuvers that, well, the festival's jury decided unabashedly to award it first place.
Read more about circus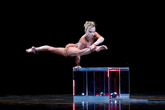 But there are more surprises to their wow moments namely that Melvina and Valeriy created the act themselves: they chose the music, created the tricks, and designed the costumes. These days, that's rare. Professional circus performers have others create their acts for them.
After a life in the air, walking on a wire, Melvina is happy to still be in the world of aerial acts, albeit in an act that, performed with her own husband, is really filled with passion and flight inside the red ring and out.
It's hard to describe, "Desire of Flight,"and all of it's stellar tricks, choreography, and passionate performances in the air. Spectacular. Stunning. Sensational. Sexy. Surreal.
But as the cliché goes, it's something best seen and not heard.
Congratulations Melvina and Valeriy!
You've made Russia proud. Again.
All rights reserved by Rossiyskaya Gazeta.