Go Shiva Keshavan! Russia loves an underdog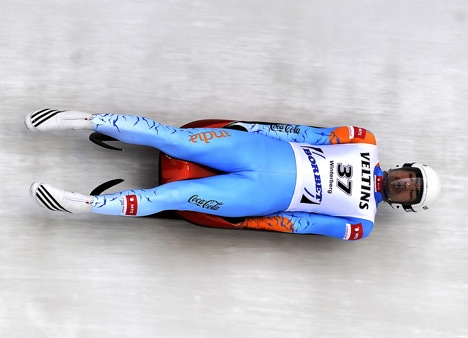 Shiva Keshavan: "Every day I'm flooded with messages from Indians all over the world telling me they are supporting me. This is enough to push me forward." Source: Dietmar Reker
Over the last 16 years, India's greatest Winter Olympian has made true sports fans in the country proud. No matter what happens at Sochi, he will always be a legend.
One of the great stories of the 2014 Winter Olympics in Sochi even before they begin is the long and epic journey of an underdog who personifies the Olympic spirit: Shiva Keshavan. In 1998, when he was 16, Keshavan became the youngest person to ever qualify for the luge event at the Winter Olympics. Since those games in Nagano, Japan, when he finished in 28th place, Keshavan represented India in Salt Lake City, Torino and Vancouver, with his best position being 25th in the games hosted by Italy. Among his achievements are the Asian speed record (134.3 km/h) and gold medals at the Asia Cup in 2011 and 2012.
Coming from a country, where a relatively small percentage of the population would have heard of the winter edition of the Olympic Games (let alone luge), Keshavan could never appeal to India's corporate giants who are always on the lookout for sporting heroes to endorse their products and brands. It takes a cricket player one good tour to be visible on TV screens across India. When tennis player Sania Mirza had a good run that propelled her well into the top 50 rankings, the sponsors were running after her. She was even the brand ambassador for Hindustan Petroleum! I'm not arguing that Mirza and the cricket players did not deserve every endorsement rupee that they got. However, it's pathetic that someone who has achieved something so remarkable under incredibly difficult circumstances needed the help of Indian film actors to raise money to buy a sled!
To make matters worse, at the Sochi Olympic, which begin in a couple of days, Keshavan will be participating under the International Olympic Committee flag. Let's be realistic, it's highly unlikely that he will end up on the podium, but it has to be terrible to watch all the competitors at the opening ceremony marching proudly under their national flags and not have the honour of holding the tricolour. "In my heart and mind I'm competing for India," Keshavan told AP. "Every day I'm flooded with messages from Indians all over the world telling me they are supporting me. This is enough to push me forward."
Keshavan, whose mother is Italian, was approached by official from Italy to represent the country in international competitions. He would have had much better facilities and infrastructure and would have received a substantially greater amount of support if he chose to take up that offer, but his love for India made him stay put. "Sportsmen are like soldiers," he told RIR in an interview last year. "You are an ambassador of your country. You have to go and fight, and show what your capacity is while the whole world is looking at you," Keshavan said in that interview. As the games begin on Thursday, India couldn't have a better ambassador, even though he is technically not representing the country
At age 33, it is unlikely that he will be able to go to the next level in the sport and set world records, but as a pioneer of winter sports and a trail-blazer, Keshavan is trying his best to promote both sports and a better and healthier lifestyle in India. "Many countries invest in sport because it is also a matter of prestige. But I think that it is much beyond that because sport creates society and gives certain values," he told RIR last year.
Hundreds of millions of Indians will not be glued to their television sets when the opening ceremony and the games are telecast in the country. However, the genuine sports fans amongst us will watch with bated breath when Keshavan attempts for the fifth time to win a medal. The Indian luge pilot can also count on getting loud cheers from the fans at Sochi. It may not be anything like what the Indian field hockey team received in the Moscow 1980 Summer Olympics, but the knowledgeable crowd would definitely root for Keshavan and his teammates Himanshu Thakur and Nadeem Iqbal and other exotic athletes like the Jamaican bobsled team. If there's one thing Russia loves when it comes to sports, it's an underdog.
Afterthought
The more I read the petty articles written by supposedly respected Western media outlets about the Sochi Games, the more I realise how jealous some people are that Russia is hosting these games and has built world class facilities. If these journalists paid as much attention to their own domestic problems, I am sure that their countries would be better places to visit and live in. But then again, let them keep up this campaign. At the end of the day, there is no such thing as bad publicity and I most certainly am enjoying their blatant displays of envy.
All rights reserved by Rossiyskaya Gazeta.