Day two: The final preparations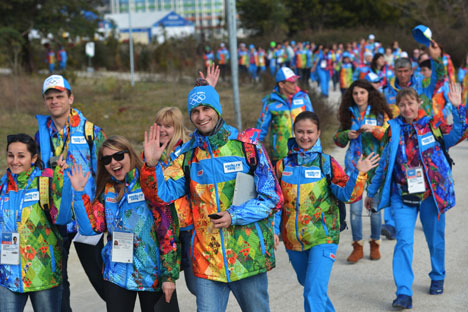 The volunteers are preparing for the Opening Ceremony. Source: RIA Novosti
With only just a couple of days left before the Opening Ceremony of the Sochi Olympics, the volunteers are using these final hours to sort out the last remaining issues.
The volunteers are keeping themselves busy with things like finding accommodation and places to eat, as well as getting their hands on tickets for one of the pre-opening rehearsals for the Opening Ceremonies. My colleagues have tried to maintain a stoic attitude towards the first two tasks.
A friend told me, without any visible emotions, how she had spent half the night before a morning shift trying to stop a flood in her bathroom caused by a broken faucet. At some point she gave up and decided that sleeping to the sound of running water was not that bad after all.
Tickets for the rehearsals are given out to the best-performing volunteers as a kind of reward. Those who have already attended one have a smug air about them and take a special pleasure in telling you that they know everything about the Opening Ceremony already, while you are not allowed to.
Strangely enough, the details of the ceremony have not yet been leaked, which just goes to show the efficacy of all the training we had in what can and what cannot be divulged.
The closer to the Opening Ceremony, the greater workload on the meeting and greeting volunteers. It is their job to meet the teams at the airport, see to it that their charges board the right transport, sort out and send off piles of accompanying baggage, while trying all the way to look as friendly and hospitable as possible.
They also have to watch out for the journalists. Every time a particularly newsworthy national team is about to arrive, the airport's international arrivals hall gets packed with reporters.
There are someone's bags, heavy boxes, miles of cables, correspondents running to and fro, skis, baggage carts, you name it. You have to keep concentrated amid all this chaos so as not to lose anyone from your group or forgetting anything.
The Canadian ice hockey team arrived today; camera-wielding journalists filled the arrivals hall an hour and a half before the plane was expected to land. People tripped over the cables; someone's arms, bags, or skis got in the way of reporters trying to record their lead-ins; someone was running about the hall, asking everyone with an edge in their voice, "Have they arrived yet?" The flood of arriving delegations will taper off soon, giving the meeting and seeing-off volunteers a chance to relax, but for the moment this chaos is what fills Sochi airport's new building with life.
All rights reserved by Rossiyskaya Gazeta.