Day 4: Just a few hours left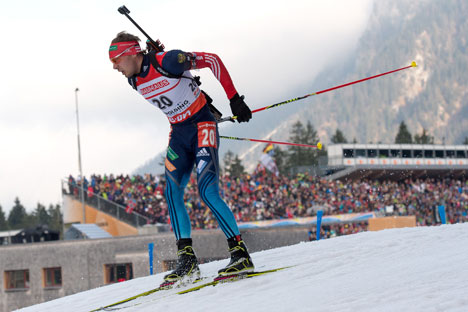 The first competitive events began the day before the official opening ceremony. That is why most of the sports venues were open to athletes at least 24 hours before the Olympics officially begin.
It is hard to say that everything is in a state of perfect readiness. Rather, everyone involved is working hard to have everything in perfect readiness by 8:14 pm (20:14 in 24-hour time) on Feb. 7 - if we're lucky.
The Rosa Khutor hotel, where cable cars pick up guests heading for the Rosa Khutor extreme sports park (the venue for freestyle and snowboarding competitions) is completing frantic preparations. Workers are planting young pine trees along the road.
Near the Krasnaya Polyana railway station, another team is stolidly painting a new bridge. There are whole hordes of cleaners sweeping the pavements, as if the entire performance of the Russian Olympic team hinges on it.
In other places, however, there are huge and overflowing trash bins; we are being told for a third day running that they will be taken away any minute now. At some of the mountain venues, meanwhile - such as the ski-jump – it's easy to wander into pools of freshly poured concrete.
All of this, however, seems a trifling thing when you see how eager the people working here are to do their job to the best possible standards, despite all the difficulties. At the venue where I work, the first competition was held in a slightly shambled atmosphere.
At one of the meetings, our team leader said something that probably applies to the whole Sochi Games. He said that very few of us here have any experience of hosting the Games, and the vast majority of us are doing it for the first time. But, he continued, common sense and enthusiasm can easily compensate for the lack of experience.
People here at the venue are only just beginning to settle down into a working rhythm. There are crowds of volunteers trailing their managers and team leaders; guided tours of the venue do not stop even for a moment. The guides have come to know their territory so well that they could probably rattle off all the information in their sleep.
Meanwhile, journalists are doing what they can to create a sense of chaos. Many are still struggling to understand how the mixed zone for quick interviews is supposed to work and keep trying to break through to the wrong accreditation area.
The athletes are also adding to the chaotic atmosphere. Yesterday I saw a bunch of Canadian skiers take the phrase "go to the other side of the mixed zone" too literally; they took the shortest possible route across the zone, jumping merrily over the barriers with their skis across their shoulders. Well, it's their first day, so we decided to let them get away with it.
All rights reserved by Rossiyskaya Gazeta.