Day six: The village that never sleeps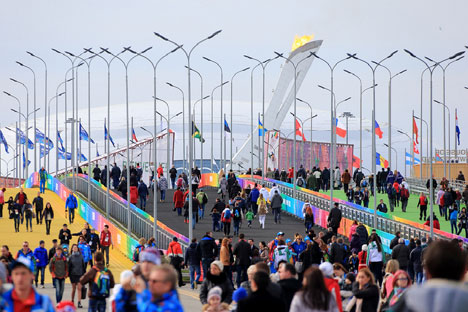 Source: flickr.com/sochi2014
The competitions have kicked off, and the first medals have already been awarded.
When the stadium fills up with people, its appearance completely transforms. The contrast is colossal: the air literally hums with emotion. All those funny hats around, the buzz, the noise, the applause, fans screaming, spectators cheering the winners... The noise becomes deafening when Team Russia delivers a good performance…
Even when the volunteers are very busy at their own venue, they try to keep abreast of all the latest developments at other venues, and to spread the news around. Complete strangers walk up to each other and whisper in confidential tones, as if bringing the latest choice gossip: "Bjørndalen has just won gold!" Or, "Lipnitskaya was amazing!" Or, "Bjørgen - as expected!"
We plan all our leisure time around the competitions schedule. Some have been lucky enough to get tickets for their favorite events. Others are desperately asking their friends, "know anyone with a spare ticket for the short track?"
Sometimes their hopes and prayers are answered. Someone I know came to the Olympic Park after his shift and bumped into a bunch of friends who just so happened to have a spare ticket for him for figure skating. Besides, after our hopes of being chosen to fill any free seats at the opening ceremony were so cruelly dashed, our team leaders decided to cheer us up by getting us a few tickets for other events.
The volunteer compounds are abuzz with activity round the clock; work never stops even for a moment. Sometimes one completely loses the sense of time; you go outside at four in the morning and see guys hurrying to their early shift, or trudging to their rooms after clocking off. The shops and cafes at the compound work round the clock, reinforcing the impression that the Olympic Village is a metropolis that never sleeps.
Having worked here for six days, no-one is surprised any more when a friend knocks on your door at three in the morning to tell you with great gusto how he likes the skiing team's support staff, even though they are all a bit weird. He has spent the past two days trying to find a hotel room for them close to the biathlon venue. It seems they have only just realized that the hotel they had booked well in advance is too far away from the venue. Predictably, all the hotels are fully booked now - nothing to be done about that.
All rights reserved by Rossiyskaya Gazeta.