Day seven: First gold medal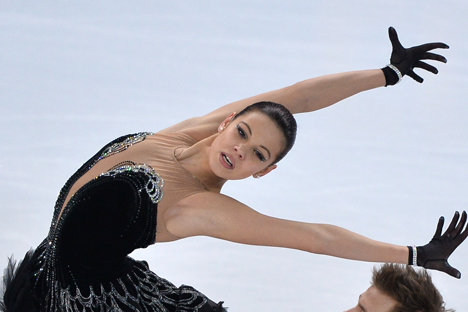 To see a competition for an Olympic gold medal with one's own eyes is an indescribable feeling.
Yelena Ilyinykh and Nikita Katsalapov (Russia) perform their free skating program during the team ice dance competition at the XXII Olympic Winter Games in Sochi. Source: RIA Novosti
To see a competition for an Olympic gold medal with one's own eyes is an indescribable feeling. On a day like this, the atmosphere is quite different from all the previous ordinary working days. On the surface, everything looks the same: everybody is performing their regular tasks, everybody has their regular targets but at the same time everybody has the feeling that this is the "Day X" that all of us have been working towards for the past several years. Instead of the usual "hi", the staff and volunteers greet each other with: "Today is a great day." And the day does indeed feel like a day of great significance. There is a bit more fuss, a bit more chaos, a bit more of being carried away, bordering on being absent-minded (all throughout the day today people I know kept losing or leaving something behind). But all that is for the sake of one single purpose.
The first joy is inevitably accompanied by the first disappointments. It is obvious that everybody cannot win and there are only three medals. Dashed hopes, interviews filled with bitter disappointment, anxious looks on coachers' faces, tears in journalists' eyes – all these are an integral part of the competition, just as the winners' triumphant jubilation is.
It is always extremely interesting to watch crowds of foreign fans who have come to support their potential champion. Cheerful, happy people, covered from head to toe in their national flags and other symbols, who are prepared to spend hours standing in the cold and the wind just to chant their favorite's name together with other compatriots who have made it to Sochi, and then sing their national anthem at the top of their voice, hugging perfect strangers who now seem their best friends. Seeing these emotions, you understand that your work is not in vain. You also realize that the staff at the hotels where spectators are staying are in for a busy night.
Until very late at night, there are groups of fans from different countries wandering around Krasnaya Polyana or the coastal cluster, waving flags and singing chants. Under my window, Polish fans kept up their joyous chant "Ka-mil-Stoch! Ka-mil-Stoch! Ka-mil-Stoch!" up till dawn, celebrating the Polish competitor's gold medal in men's ski jump.
In the middle of the night, the McDonald's at the main press center is the most popular place in that huge building: there is a steady flow of people entering it and a steady flow of people leaving it, with a cup (sometimes two) of coffee, slowly making their way to their workstations. Major global events like this always make one forget about sleep and rest, so no one is surprised to hear, at 3:30 am, one journalist tell another: "See you tomorrow! That is, today… That is, see you in three hours." Then he heaved a deep sigh as he got off the press bus, leaving his notebook behind.
All rights reserved by Rossiyskaya Gazeta.