Day 11: An Alternate Reality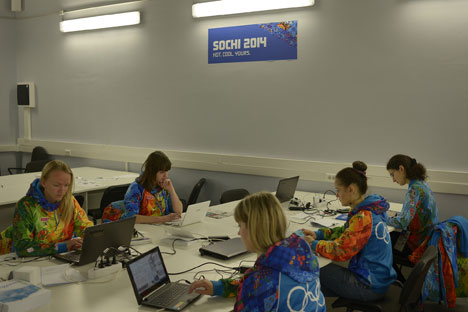 'Nobody pays any attention to the fact that volunteer schedules are so crazy that you might not even know what your roommate looks like'. Source: Mikhail Mordasov
Everything's going smoothly. Everyone is used to this strange life, and it seems like we've always lived this way.
Everything's going smoothly. Everyone is used to this strange life, and it seems like we've always lived this way: up at the crack of dawn, endless trips on trains and buses, more security checkpoints than we can count, the events, then a late return home and the constant but somehow pleasant exhaustion. Many of my colleagues have one reaction: none of us has any idea how to go back to real life. Sochi creates the sense that we exist in an alternate reality where our typical everyday problems don't exist, no work, no school, none of the bustle of everyday life – it's all new responsibilities and new entertainment.
This impression is enhanced by the feeling of complete security. Before the Olympic Games, there was a lot of talk regarding this issue, and everyone was worried, both for themselves and for their families. I know people who refused to come to Sochi solely due to safety concerns. But when you come here, you realize that these fears are groundless. The entire area in which the Games are being held, in Sochi and Krasnaya Polyana, is secured to bar entry to any unauthorized individuals. In a few days, you get used to the constant checkpoints and verification of accreditation, and when the excitement settles, you realize that you're in the most secure and protected place on the planet at the moment. Even the sharp-tongued journalists quickly stopped giggling at the sealing of buses between stops to prevent the entry of unauthorized persons or foreign objects. Sure it's funny, an excuse for a joke, but with competition underway it's an unaffordable luxury to waste time on additional security inspections. It's better to ride in sealed busses than constantly run late due to more security checks.
We no longer realize how unique the situation is, and things that would seem bizarre in ordinary life have become the norm. No one is surprised when the supervisor transmits information about changes in the bus schedule over the radio and at the end, without changing his tone of voice, adds "… and congratulations, everyone, on another victory." The only thing that flashes through your mind is which victory, given all the events that are going on simultaneously. However, with the hockey matches beginning there's no longer any question.
Nobody is surprised by the loud argument in the press center for control of the TV remote – two journalists are fighting over whether to watch the luge or figure skating. Nobody is surprised when we're allowed to be a little late for a shift so we can watch at least some of a famed figure skater's workout. It's common to constantly meet media and sports figures we admire at the bus stop, and it's no surprise to see a very familiar name on someone's accreditation. Nobody pays any attention to the fact that volunteer schedules are so crazy that you might not even know what your roommate looks like.
But for now, this is everyday life, at least until the end of the Games.
All rights reserved by Rossiyskaya Gazeta.