One peaceful November morning, a small group of Americans was hiking on the mountain trails of Colorado. On their way back to their camp at the base of the mountain, they came across a huge jeep which had slid off the road into a snowbank.
A young man, who was frantically circling around it, ran up to the hikers and asked them to help him get the car out of the ditch. To their surprise he spoke with a distinct Russian accent.
That young man was me, and I had got myself into this sticky situation in the Rocky Mountains near Denver, where I had ended up after deciding to go on a three-week Russian-American exchange program for young journalists.
The program was co-directed by the International Center for Journalists (ICFJ) in the United States and the Moscow Union of Journalists in Russia. Twelve Russian journalists worked for U.S. newspapers, radio stations, and magazines, while twelve American journalists worked for Russian publications in Moscow and St. Petersburg.
The main goal of the exchange was to share experience and overcome stereotypes about both Russians and Americans. For my temporary work placement I was assigned to the main office of the Denver Post in Denver, Colorado.
During my stay in Denver, I lived with the family of the Denver Post's travel and fitness editor, Kyle Wagner. Having found out about my love for snowboarding, Kyle rented a huge jeep for seven people, and took me - along with her entire family, including her boyfriend, two daughters, and their boyfriends - to a small ski resort by the name of Arapahoe Basin for a weekend.
When Kyle and I went back to the rental office to return the jeep after the trip, I decided that I would rent a car of my own so that I could travel around the state and collect material for a piece on Russians who had emigrated to Colorado.
I wanted something compact and fuel-efficient, but all the cars fitting that description had already been rented out, so the rental company employees suggested that I hire the same jeep that Kyle was returning.
They even offered it to me for the price of a saloon car to make up for any inconvenience. That is how I wound up behind the wheel of the "behemoth", as Kyle and I had come to call this six-liter monstrosity.
Tough guys with dashcams
"Do you want to trade presidents?" was the first phrase I heard from the security guard at the Denver Post, who had just found out that I was from Russia. The images of Vladimir Putin on horseback, swimming butterfly, shooting tranquilizer darts at Siberian tigers, and retrieving Greek pottery from the sea bed are somewhat more appealing to many provincial Americans than President Obama, who had promised hope, but instead only botched the U.S. healthcare reform program.
Aside from Putin's machismo, the locals tend to know very little about Russia or Russians, despite the existence of a whole Russian district in Denver. However, Russians live peacefully in Denver and successfully assimilate into the local culture.
Surprisingly, Russian-language signs can be found on almost every block in Denver. This is due to the marketing strategy of the city's Dazbog coffee chain, which is run by two Russian immigrants.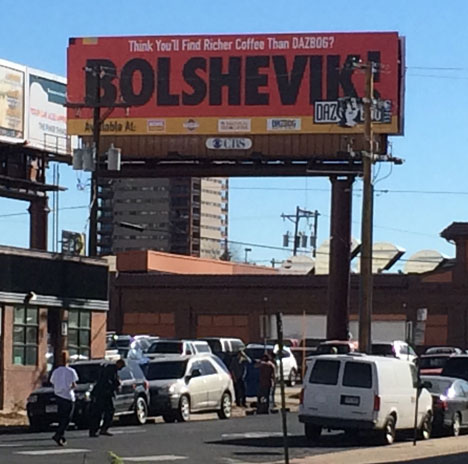 The Dazbog cafe in Denver is run by Russians. Source: Vsevolod Pulya
For some reason, the owners of this chain decided that their Russian heritage would help them market their product. Interestingly, they were right on the money. American customers do not even suspect that Russia does not produce any coffee whatsoever, but they are attracted by the exotic foreign script featured prominently in the café's décor.
The most common question that Americans asked me upon discovering that I was Russian was "Are dashcams mandatory?" This misconception exists due to the huge number of videos of Russian roads available online, many of which show accidents and near misses.
At least this stereotype was based on reality, but many others have been formed in the minds of Americans thanks to simple misunderstandings. For example, one lady from the Denver Post emailed me a picture which showed several rows of beer bottles with a caption reading "Russia did not consider beer an alcoholic beverage until 2011. Before then, any drink under 10 percent volume was considered a soft drink."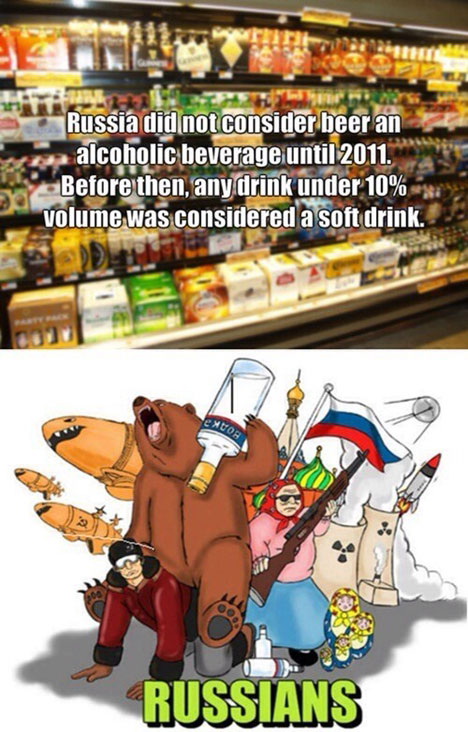 Source: Facebook.com
She accompanied this picture with a comment reading something like "Wow, you guys are hardcore, I hope you don't give this stuff to infants." I had to explain that at one point, beer was treated differently from harder drinks, but that it was never considered a soft drink.
This meme, if you will, was created by a British journalist who did not fully understand what he was talking about. The lady who sent me the image was reluctant to accept my explanations and once excitedly introduced me to her friends as the man from "the country where they drink beer like Coca-Cola."
It is important for Americans to have an emotional connection to the world around them. It does not matter what emotions are being felt, as long as they do not remain indifferent. This principle also applies to journalistic work.
When I interviewed the Denver Post editor-in-chief, Gregory Moore, I asked him what three pieces of advice he could offer to young journalists. The first two were pretty standard: to read more in order to expand one's horizons, and to become familiar with different computer programs in order to be able to work with digital media.
However, for his third piece of advice, he gave a slight smile and said: "Always have empathy for people and subjects you are writing about."
This was strange to hear from a person living in a country which prides itself on the objective and unbiased reporting of its new media. However, after giving it some thought, I realized that he was right and that this was exactly what was often missing from Russian media.
Saving the behemoth
Let us return to the jeep, which was stuck in the snow somewhere in the Rocky Mountains. The Americans and I had spent some time circling the jeep, trying to figure out what to do.
We tried to put fir tree branches and stones under the wheels to get traction, and rocked the car back and forth, but the car only seemed to sink deeper into the snow.
Most of the hikers gave up and went on down the trail. I was left alone with a married couple, who refused to abandon me. Finally the husband said to me, "I think you need to put on a coat, it looks like you're going to be here a while."
I climbed into the car to get it and noticed a switch which I had previously not seen. It was clearly a switch to turn on the vehicle's four-wheel drive, but I cannot explain why I did not see it earlier. I turned the switch to the 4x4 setting and with a rev of the engine, the jeep easily climbed out of the ditch.
I have to admit that this was the first time I had found myself in such an idiotic situation; to be stuck in the snow on a back road and, having failed to figure out the controls of the car, be obliged to ask a group of strangers to spend half an hour in the cold, trying to get me out of the ditch.
I should also say that during the whole ordeal, the Americans showed no frustration and refused to take money in exchange for their help. However, I did get a business card from one of the men, who turned out to be a realtor, and later sent him an Amazon gift certificate by email. He responded by saying that "I've also been in a similar situation, and I know that for you it wasn't too amusing. I was just glad I could help."
I tell this story to everyone who asks me what Americans are really like.
All rights reserved by Rossiyskaya Gazeta.