Day 17: Five things I'll remember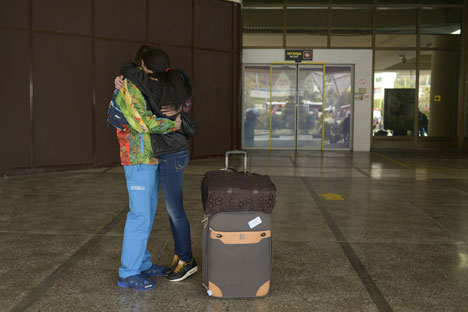 Volunteers will be missing Sochi. Source: Mikhail Mordasov
The five things that I will probably remember the most after I return home from Sochi.
The Games are inexorably drawing to a close. In some sports, the last sets of medals will be awarded later today or tomorrow. In others, there are no more events left. For some of the winners, the medal ceremony was slightly overshadowed by pouring rain; the reaction of the spectators, all wet and cold to the bone, was more than a bit subdued.
The unofficial part of the celebrations usually continues later on at the only nightclub in the entirety of Krasnaya Polyana.
"You wouldn't believe me if I told you who I saw being kicked out of the club for trying to start a drunken brawl," a friend said to me the other day.
It is perhaps time to start drawing some early conclusions. Today I would like to focus on the five things that I will probably remember the most after I return home from Sochi.
1) Pancakes – or blini. Most of the volunteers will probably be unable to stand the sight of them for months to come, for ready-made blini of very dubious origins were served almost every single day in three volunteer compounds out of five. Some of us have even come to see these pancakes as a symbol of stability: there is that weird superstition that if anything other than blini is served in the morning, the day will be full of mishaps.
2) Curtains. The presence of curtains in a hotel room has come to be seen as a sign of luxury. It seems easier to bump into a famous athlete than into someone who has curtains in their room. Needless to say, I am not one of the lucky few.
3) Remote-control wars. It is an issue of life or death to find a television showing the event that you want. Also, the less popular the sport is, and the slimmer Russia's chances of winning medals, the less likely you are to win the battle for the remote. So, for example, if you want to see biathlon when there's a hockey game in progress, you're out of luck.
4) Uniforms. It's not even about the uniforms as such, but about the vain attempts to keep them looking presentable. More and more people are gradually starting to wear their old casual clothes, for various reasons. Some of us keep losing the uniform accessories, such as gloves and hats. Others – including myself – are still trying to dry our uniform jackets on lukewarm radiators, days after being caught in pouring rain. I know a few people who have traded bits of their uniform – or even the whole set – with one of the national teams. Finally, there seems to be a petty uniform thief in one of the volunteer compounds, who filches whatever bits of Olympic wear he or she can find.
5) Last but not least, I must mention the feeling of complete and absolute security. Knowing that there is a vast and sophisticated security system all around you is very comforting. You can always be sure that there is not a single person around who shouldn't be here. You can always count on being able to get back to the hotel room from your shift, regardless of the hour. You can lose a mobile phone on the bus here, and have it returned as sure as sunrise a couple of hours later. All of this creates a strange but wonderful feeling that everything is as it should be.
I will miss all these things. I will miss even the blini for breakfast. And that is why, just like all my colleagues, I am determined to make the most of our few remaining days here.
All rights reserved by Rossiyskaya Gazeta.