A tribute to a legendary MiG designer and friend of India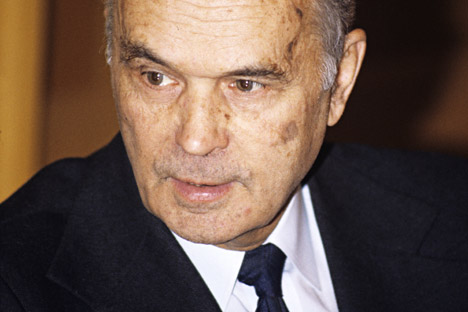 Rostislav Belyakov's achievements in aeronautics are well known. Source: Alexander Liskin / RIA Novosti
Rotislav Belyakov, who passed away last week, played an important leadership role in the design of the MiG-21, MiG-25, MiG-27, MiG-29 and MiG-31 fighters.
On March 1, the Russian news agencies announced about the sad demise of Academician Rostislav Belyakov, the Honorary Chief Designer of the Russian Aircraft Corporation MiG. After a prolonged illness he died on February 28, just a few days before his 95th birthday (March 4).
Academician Belyakov's achievements in aeronautics are well known, the MiG-21, MiG-25, MiG-27, MiG-29 and MiG-31 fighters designed by Mikoyan-Gurevich Bureau under his leadership have dominated the skies in the latter half of the 20th century, while MiG-29 fighters have undergone further development to be transformed into cutting-edge weapons platform like carrier-borne MiG-29K fighters for the Indian Navy for deployment on the INS Vikramaditya aircraft carrier as well as 4++ generation MiG-35.
But there were different times in the life of Academician Belyakov, when everything around him looked bleak and nobody had the idea, how the defence cooperation with India would proceed? But Belyakov, a visionary never lost his optimism.
It was the middle of March 1992, few months after the collapse of the USSR in December 1991. There were more questions about the future of Indo-Russian military-technical cooperation than answers. A friend of mine in the Indian Embassy asked me whether I would be interested in interviewing Chief Designer of MiG. Of course! Which journalist would miss such an opportunity, specially knowing that in the Soviet times even their names were classified?
I was given his phone number, without any problem he gave me an appointment on a murky March morning and I was given the instructions how to come to the super-secret design bureau by public transport. I don't remember the metro station, but it was on the Leningrad Highway. I boarded a red tram, which took me through winding alleys to the gate of MiG Design Bureau.
Unlike these days, there were hardly any security checks. I presented my Foreign Ministry Press Card to the guard, who let me in and told me to proceed to a building in the compound. I was ushered in by the PA to Academician Belyakov into a spacious room with a big table and lot of chairs, probably the conference room of the MiG design bureau.
Academician Belyakov, who looked tired and worried, however, warmly welcomed me and offered some tea before beginning our interview.
Naturally, my first question was about the future of our defence cooperation in general and military aircraft in particular as Indian armed forces were heavily dependent on the Soviet supplies.
At that juncture there were also questions about Moscow's policy vis-a-vis India. In January 1992, new Russian Foreign Minister Andrei Kozyrev had refused to meet Indian Foreign Secretary Mani Dixit, who was sent by Prime Minister PV Narasimha Rao on a fact-finding mission after the Soviet collapse. The atmosphere was further aggravated by the talks of "equidistant" policy in relations with India and Pakistan and "stop looking at Pakistan through Indian goggles."
Academician Belyakov rubbished such talks saying that in the long run relations with India, both politically and militarily will continue to develop in the new scenario.
"No country can replace our friendly ties with India, not even our new American friends," he was categorical. It was the time when the American advisers had occupied the spacious cabins of former politburo members in the headquarters of the Soviet Communist Party in the heart of Moscow.
He said that although the Soviet military-industrial complex has disintegrated with the fragmentation of the USSR, but its core industries were based and remain in Russia.
Before the Soviet collapse India had inducted 70 MiG-29 fighters - a 4th Generation air superiority multi-role fighter and talks were on to acquire 10 more aircraft. However, the fate of new acquisition was under cloud due to radically changed scenario.
Academician Belyakov vowed to fulfil the Indian contract, if signed, saying that all the units of MiG were functional in Russia. Not only this, he was perhaps the first Russian weapon producer, who envisioned the transition of bilateral cooperation from buyer-seller relationship to joint development and production of weapon systems and platforms with India, which today has become a reality with projects like BrahMos cruise missiles, fifth generation fighter aircraft (FGFA) and multi-role transport aircraft (MTA) for the armed forces.
He had prepared the MiG-21-93 project for the modernisation of the Indian Air Force's work-horse MiG-21, which had scope for the bilateral cooperation in their upgrade.
Academician Belyakov's interview widely carried by the Indian media had a definite impact on the decision making in New Delhi. In 1994 India acquired nine MiG-29 fighters and one trainer version.
This was the resumption of bilateral military-technical cooperation, which today has become a strong pillar of India-Russia privileged strategic partnership, foundation of which was laid by people like Rostislav Appolosovich Belyakov.
RIP: A true friend of India.
All rights reserved by Rossiyskaya Gazeta.