Encounters with Russian humour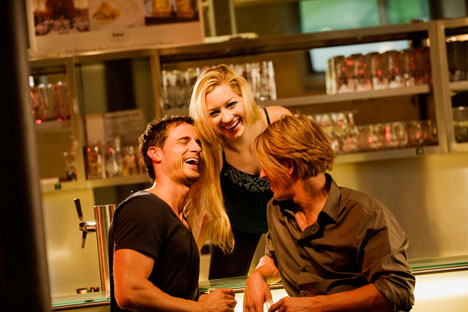 Russians can find something funny in the glummest situations. Source: Photoshot / Vostock Photo
Russian people have an amazing ability to see the humour in some of the glummest situations. It's hard to argue that laughter is the best medicine.
In the popular 2006 Russian film 'Peter FM,' the protagonist gets stopped by a policeman in an underpass in St Petersburg for an identity check. When the cop sees that the young man's passport and registration is in order, he decides to go through his backpack. When even that is all clear, he says the word "narkotiki (drugs)" in an interrogatory tone, to which the young man politely says "net, spassiba (no, thank you)" hinting that the policeman was a drug pusher. This was Russian humour at its best.
Over the last eleven years, I have seen how my Russian friends can find something funny in the glummest situations. An effective remedy to deal with the highly unpredictable nature of day to day events in Russia is to see the lighter and funnier side of life everywhere.
A Russian friend of mine who worked for BP was so excited about his first trip to the United States that he decided to take time off after his training and explore the country. He had heard stupid questions throughout his vacation, but what a gas station attendant in Texas asked him shocked him, but just for a few seconds till he could make a comeback with a witty response.
It started off as a normal conversation. The Texan wanted to know where my friend was from and he said Moscow, Russia (in an obvious attempt to avoid a mix-up with Moscow, Idaho). The response, according to my friend was, "Wow. That must have been a long drive." After he recovered from the shock, because he knew the attendant was serious, he responded by saying "the road was a bit flooded." Of course the dim-witted employee of the gas station did not get the joke.
Many of us have grown so accustomed to delays, long lines, poor service, bureaucracy and the likes, it's actually easy to laugh off these things, but the real test of a person's humour comes when he or she is faced with a new challenge.
The same friend that dealt with the gas station attendant, who thought one could drive from Moscow to Houston, fulfilled another long- cherished dream by visiting India. He was able to keep his humour in tact in the month of August when the Indian capital isn't the most pleasant place to be weather-wise. As he browsed at some books near Connaught Place, a shoe-shine boy came and offered him his services.
My friend politely declined, despite repeated pleas of "only 10 rupees" (17 cents). Within seconds he could literally smell something strange. When he looked down, he actually saw some cow dung! Then he literally had to call out of the shoe-shiner to get his boots cleaned.
The rate obviously increased to 200 rupees ($3,3), but he laughed off the incident in a way that I am sure that many of my other foreign or even Indian friends would not have. He knew he had been tricked and who managed to decorate his boots with manure, but he appreciated the creativity of the situation.
Long drinking sessions are common in Russia, especially in the middle of winter, when outdoor options are limited in bigger cities. Non-Russian friends of mine who don't understand the jokes or the language itself seem to get completely absorbed in the humour after a few shots of vodkas.
In fact, more of the pressing East vs West problems of the day may get solved if world leaders sat together for a Russian evening and settled the matters over shots of vodka, pickled cucumbers and some dried fish. In the worst case, the problems wouldn't be solved but the leaders would establish a personal rapport.
All rights reserved by Rossiyskaya Gazeta.