Western sanctions are a wake-up call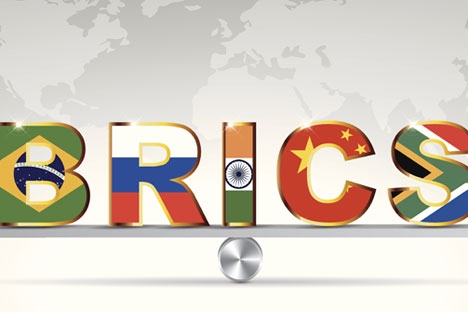 The BRICS need to develop new sanction-proof financial infrastructure. Source: Getty Images/Fotobank
India would be wise to take Russia's lead and quickly develop its own domestic payment system to protect itself from economic warfare in the future. The BRICS countries need to develop common mechanisms that can act as a firewall against economic attacks.
Imagine going to a grocery store with a large shopping list, and patiently buying fortnightly provisions and then waiting in a queue for a long time and then finding out that your debit card transaction was denied. When Visa and MasterCard decided to implement Barack Obama's sanctions in word and spirit, half a million Russians suddenly were in a danger of such a situation. Their cards could only be used to withdraw cash. An overwhelming majority of these people had absolutely nothing to with the Crimean reunification with Russia, but had to pay the price for Western economic warfare.
Being a man of action, Vladimir Putin has ordered that a domestic payment system come into place in the near future. This will turn out to be a blessing for Russia and hit the international payment systems where it hurts the most: their own profits. Visa and MasterCard stand to lose more than $3 billion a year as a result of Russia having a domestic system in place. India should follow suit and set up a domestic system as a growing number of its citizens use plastic money. It is not entirely clear when the RuPay system, which is being developed by the National Payments Corporation of India, will be widely available across the country.
Over the last few decades, global interdependence has translated more into emerging economies being dependent on Western systems. It goes without say that an IMF bailout of an emerging economy will come with far more strict conditions than one that bails out a Western economy. The BRICS just do not have enough of a say in the way the Bretton Woods institutions function. It's unfortunate that an idea like the BRICS bank, which should have come into fruition by now, is still stuck and is likely to become a reality only by 2019.
A growing numbers of countries in Asia, Africa and South America are frustrated with the bullying that is a part and parcel of the Western-dominated institutions. The BRICS are seen as a counterweight and inspiration in the quest for a new world order. The upcoming summit of the grouping in Brazil should have a single-minded focus to set up the kind of infrastructure that creates a firewall against economic sanctions.
Indirect victims of sanctions
I have always believed that economic sanctions do more harm than good and usually have a larger impact on those who weren't the intended targets. When there were global calls for even tourists to boycott Myanmar over the imprisonment of Aung San Suu Kyi, I visited the country not because I supported the military junta, but because I realised that responsible tourism (avoiding government-run services) would only benefit the poor people of the country. Starving the common folk of a country is in way going to make their lives better.
On a macro-level, India, which imports more than 70 percent of its energy requirements, is one of the losers from international sanctions on Iran. The Iran-Pakistan-India pipeline had to be abandoned by New Delhi on account of pressure from Washington. Those who raise the Pakistan bogeyman forget that Iran guaranteed supply and/or financial compensation in case there was a problem created by India's neighbour. New Delhi was also coerced in reducing crude imports from Iran and at the moment both sides are still looking at some mechanism where Teheran can be paid for crude.
Reports have emerged that Russia is once again in talks with Iran for an oil-for-goods swap. In January, the volume of such a deal was estimated at $1.5 billion. It is widely believed that India is also negotiating a similar deal. The decision makers in New Delhi may finally come to an understanding that India will probably never be seen as an equal and will most likely not even be seen a genuine partner for the West, unless it volunteers to become a lieutenant to the US on the lines of the UK. It's time that the foreign policy establishment of the country put Indian interests ahead of everything else and ensured that the country will not be in a position where sanctions can have a crippling economic effect.
India's interests lie in the strengthening of BRICS both as an economic and a political grouping. Russia could not get isolated internationally after the Crimean reunification largely because the BRICS rallied and came out in support of the country. Given the fact that the West has rarely been sympathetic or taken India's side in any international dispute, the day may not be far when the country may face the wrath of sanctions on some flimsy grounds.
A proper insulation mechanism and a stronger BRICS would be the best ways to dodge economic warfare.
All rights reserved by Rossiyskaya Gazeta.