Singing strangers on a train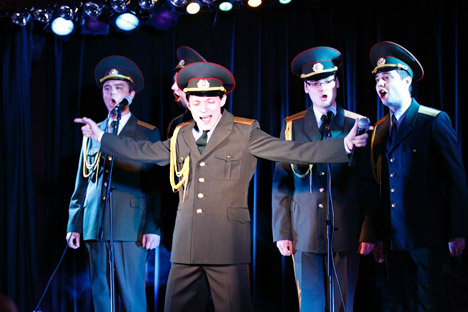 Russian Army Choir became famous after their "Skyfall" cover went viral in the fall of 2013. Source: Press photo
An ordinary overnight journey from St. Petersburg to Moscow was enlivened by an unexpected encounter with a famous Russian musical ensemble.
Every month I travel to St. Petersburg, because my family lives there. I've never counted how many journeys I've made, but I have to say it's very rare for me to really interact with my neighbors in either kupe (2nd class) or platzkart (3rd class).
I have had interesting conversations with travel companions on a number of occasions though, and once I ended up traveling next to the artist Petr Pavlensky who became famous after he nailed his genitals to the cobblestones of Moscow's Red Square (luckily he was quiet and kept calm on the train). But last weekend was a pleasant exception.
I took a very late train and was tired, so I made my bed really fast, planning to go to sleep immediately. But soon a large group of young and rather loud guys invaded my compartment and the one next door. It was clear that they were colleagues, so I was thinking that they were just some boring bank staff on the way to their main office in Moscow, and that was why they were traveling as a group. But soon afterwards I realized that I was mistaken.
About 20 minutes later, these guys started discussing music, some old and modern pop and variety singers, and then they started to sing a really weird Russian pop song from the 90s originally performed by Tatyana Bulanova.
My reaction was: "Guys, you are the most original neighbors I've ever met during my two and a half years of traveling from Moscow to St. Petersburg and back."
They laughed and smiled, promising there would be more fun. So I asked if they were singers, and they confirmed that they were and told me I could just google "Russian Army Choir". Of course I knew who they were! Because it was them that made the amazing "Skyfall" cover that went viral in the fall of 2013.
Russian Army choir performs "Skyfall". Source: YouTube
I'm sure that it was partly because of their initiative that later the Russian Police Choir decided to perform Daft Punk's "Get Lucky" at the Sochi Olympics.
So later they sang a bit of "Skyfall" for me and we agreed that I'd record a video with them in the morning. What did surprise me was that on stage and in uniform they look older then in real life. They were going to perform for a film presentation in Moscow, but are originally based in St. Petersburg.
Another surprise was that despite their official name being the Russian Army Choir (Хор Русской Армии) they are not part of the actual army. There is a certain distinction in the Russian language that disappears in translation – "russky" (русский) is different from "rossiisky" (российский, belonging to the Russian Federation) - both translate as "Russian" in English.
All of them went to music school and were interested in performing classical military and war songs like "Katyusha", "Den Pobedy" (Victory Day), but also Soviet classics, variety songs and foreign hits like "Skyfall", "We Will Rock You" and "The Show Must Go On".
Russian Army Choir - Show must go on clip. Source: Youtube
I felt a certain rivalry between them and the Russian Police Choir, but what deserves respect is that they aren't sponsored by any military organization (they even told me that some people were angry that they had chosen this name).
They are definitely younger and more open to experiments then traditional military choirs such as the Alexandrov Ensemble or the Russian Police Choir. Not to mention that they are generally polite, funny and intelligent guys, as I noticed during our conversation.
Unfortunately though, I didn't manage to make the video in the morning (well, I guess reporters just must realize their ideas as soon as they come to mind). Everyone was busy with breakfast; still we had a nice chat about their repertoire, the venues and celebrations where they perform and their plans for the future.
The night before I had told them that I work at RBTH and would probably write about them, so they were excited to be featured in some international project and I recall conversations (which took place while I was trying to sleep) in which they were planning what would be the best song to perform – some folk melody, "Skyfall" or just Mr. Trololo's solo.
In Moscow, when we were saying goodbye to each other, one of the guys told me: "Oh, I see you have a slightly military-style coat". I laughed and thought that it was probably destiny. So I took a photo of them at the station and fulfilled my promises. After all, it's not every day that a Russian army choir accompanies you on the train.
Russian Army choir at the Leningradsky train station in Moscow. Source: Elena Bobrova
For more information about the choir visit the web-site.
All rights reserved by Rossiyskaya Gazeta.