How Christ is resurrected in a typical Moscow family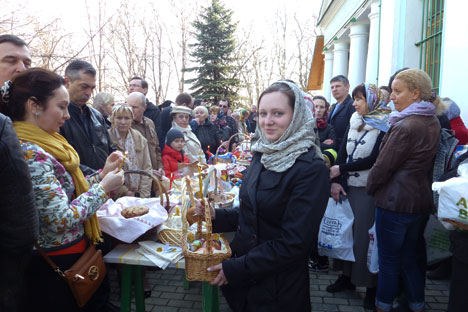 RBTH editor Alexandra Guzeva blessing some dyed eggs and kulichi before Easter. Source: personal archive
The Russian Orthodox Easter celebrations feature a number of traditions that are peculiar to the country. An RBTH editor sheds light on how average Russians celebrate Easter, based on her own experience, and talks about the special atmosphere of the festival.
I don't have a very religious family, despite the fact that almost all of us are baptized Orthodox. That is, besides my dad, whose red Komsomol membership card is still lying around somewhere. We almost never go to church, and we don't observe Lent. However, for as long as I can remember, we've always dyed eggs and baked kulichy (Easter cakes) at Easter. It's a tradition as ingrained as New Year, as pancakes during Maslenitsa, as watching the fireworks on Victory Day, May 9.
The Thursday before Easter is called Maundy (or Clean) Thursday, but hardly anybody remembers to associate it with the Last Supper, when Jesus washed his apostles' feet in a demonstration of brotherly love and humility. However, it's common to clean your house and thoroughly wash yourself on Maundy Thursday.
Having washed and rid yourself of evil thoughts to the greatest possible extent, it's time to dye eggs and bake a kulich. Earlier, my mom and grandmother would start gathering onion skins several months before Easter in order to boil the eggs in them, giving the eggs their signature brown tint. Sometimes they doodled on the eggs, wrote "ХВ" on them (for Христос Воскресе, or Christ is Risen), and put little stickers on them.
Now the art of egg dying has gone far beyond onion skins, with some Easter eggs being transformed into masterpieces of Fabergé caliber. It would be a shame to eat such a work of art, so it might be stored in the refrigerator for months… It's somewhat reminiscent of the tradition so popular among Russians of not taking down the Christmas tree (in Russia's case, the New Year tree) until March.
Mom painting Easter eggs. Source: personal archive

Almost no one bakes kulichy themselves these days, with stores offering an enormous variety of cakes covered in glaze or chocolate, some of which are more similar to cupcakes. These are, of course, tasty, but they just don't have the same soul and taste as homemade ones. My grandma still bakes her own kulichy, and all of our friends agree that they've never tasted anything so delicious.
On Saturday, the day before Easter, you need to bless your dyed eggs and kulichy at church. My grandma told me that people still celebrated Easter and painted eggs even during the anti-religious Soviet days. At that time, she lived with my great-grandparents in a village, and they sometimes went to the local church to bless their eggs and kulichy. When they moved to a small military town outside of Moscow, there was no church, so even though they were unable to bless their Easter bounty, they still prepared for the holiday.
Now eggs and kulichy can be blessed at churches everywhere. My mom and I love to go to a little church at Sparrow Hills (Vorobyovye Gory) near the observation deck. It's really cozy and far from any residential areas, so there are no lines. Tables are set up near the church outside, and everyone sets out their culinary masterpieces, sometimes even wine. After all, Great Lent ends the following day, when everyone who has observed Lent gets to break their fast.
Every 15-20 minutes, the priest comes around and sprinkles everyone with holy water, while chanting prayers. The priest at Sparrow Hills has a good sense of humor – he is unsparing with the water, splashing anyone and everyone.
The Trinity Church at Sparrow Hills (Vorobyevy Gory) in Moscow. Source: personal archive
Easter is one of the chief church holidays in the Orthodox faith, but our celebration, as is the case with the majority of our acquaintances, means something more – bringing people together and creating an indescribable atmosphere of kindness and light, which permeates everyone. This day usually marks the start of real spring – not the calendar spring, but the weather spring. It seems like the weather is always good at Easter. The sun shines, and it's as if Russians themselves, tired from the gray and the winter, begin to smile.
On Easter Sunday, it is common to greet each other with the phrase "Christ is risen," to which it is proper to respond "He is risen indeed." It's an expression of metaphysical joy. But you don't even have to say the words – just exchange colored eggs as gifts.
People also visit the cemetery on Easter Sunday, where they leave eggs and kulichy with candles on the headstones of their deceased relatives or loved ones. But this isn't done in sadness – Easter is a time to celebrate life.
Read more blogs by RBTH editors
All rights reserved by Rossiyskaya Gazeta.