One of the dreams I've realized since moving from St. Petersburg to Moscow is that I finally bought a bike. I learned how to ride a bike in my childhood but I almost never cycled in the city before 2012.
Still, I can't say that I'm a top-level cyclist, I go to work by subway, but from April to November I ride my bike almost every weekend.
My favorite route goes from Gorky Park via Neskuchny Sad, down to the Vorobyevy Gory embankment and then to Kievskaya. After this I cross at the pedestrian bridge there and ride all the way back to Park Kultury (through the Luzniki sport complex).
This way can be really crowded and complicated over the weekend (especially at Gorky Park) but it's very convenient, because there are some cycle lanes. I still find it very frustrating that lots of pedestrians just ignore it and occupy them.
While many people find that Moscow is full of cars (which is true) and remain skeptical about riding a bike here (it's cold, it's dangerous, and the distances are too long) there have been some good improvements in the infrastructure during recent years.
One of the people I really admire is cycling activist Vladimir Kumov. It was him who, after two years of negotiations with the city administration, organized the first Moscow Velo Parade in May 2012. City officials were expecting 2,000 people, Vladimir and his team thought about 5,000 and in the end about 8,000 people took part in the event.
Let's bike it! 2012. Source: YouTube
It was also him who recently made a trip through South America. He went from Mexico to Argentina, crossing 12 countries in 18 months, and ended up covering about 9000 km on his bike.
And it's also Kumov who is bringing the Bicycle Film Festival to Russia for the second time.
The festival, founded in New York in 2001 by Brendt Barbur after he was hit by a bus while riding his bike, will be held in New York in June 26-29, then in Moscow from 23-27 July. The organizers promise to present films from all over the world, arrange parties and celebrate bikes through art, film, music and performance.
What I'm also looking forward to is the bicycle polo competition. I first saw this game during my American trip last summer; I spent about an hour watching this game. Unfortunately it's not so popular in Russia yet, but I hope soon the situation will change.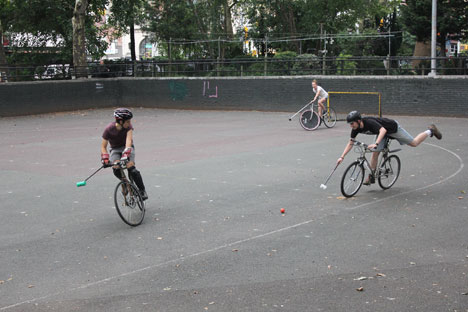 The bike polo in NYC. Source: Elena Bobrova
My second most memorable impression from the U.S. was when I rented a bike in San Francisco and crossed the Golden Gate Bridge on it. Honestly, it was one of the coolest things I've done in my life, it was rather cold, windy and sometimes scary, but for me it was the perfect way to spend my last day in San Francisco.
Pity I didn't manage to ride in New York, but now I consider it just as one more reason to come back to the U.S.
But if we come back to Russia there are plenty of events this summer to tempt cycle freaks:
On May 18, as part of the Velobulvar festival, several streets in the city center – Samotechnaya, Tsvetnoi Boulevard, Trubnaya Square, and Olympiysky Prospekt will be blocked from cars, so cyclists and roller-skaters will be the stars of the streets.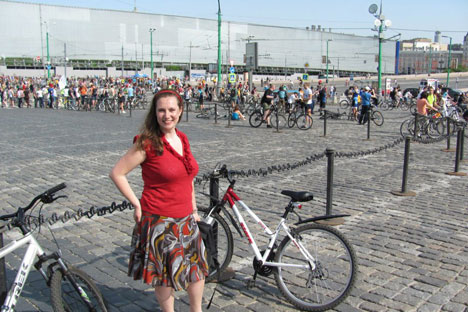 The first Moscow Velo Parade, May 2012. Source: Elena Bobrova
There will be five different competitions, music concerts, films, workshops, lectures and even a special event for ladies, who are welcome to appear in red clothes and retro style.
In June, central Moscow will be the stage for the Let's bike it! bicycle parade. More than 10,000 participants will pass through the blocked off city center on bicycles as a way of expressing their support for the development of cycling infrastructure in the capital (dates and details will be confirmed soon, look for updates in the Let's bike it! group).
July, meanwhile, sees the Velonotte taking place in Moscow and London. Velonotte™ is an international annual non-profit event that presents secret places, key monuments and hidden landscapes to hundreds and thousands of people.
Participants not only ride bikes at night, but also listen to the excursions devoted to famous painters, writers, musicians. The Moscow event will be devoted to the poet Alexander Pushkin (the tour will be in Russian).
Or you can take part in the Lady on a Bike festival on August 4 in the Sokolniki park. This year's rally will be inspired by Hollywood divas. Girls will have the opportunity to look like Marilyn Monroe, Rita Hayworth and Audrey Hepburn. Sokolniki Park will be stylized to look like a Hollywood film set and organizers promise to give away Oscars.
Also if you are fluent in Russian you can register at the website of Katushkin. The company organizes rides almost every day, which are a good opportunity to meet riders who live near you. And of course you don't need to wait for events - just rent a bike from Moscow's city rental, which includes about 40 stations where you can pick up a bike (be sure to register on their website first).
There are independent rental stations in Gorky Park, in Sokolniki Park, at Luzhniki, in Museon Park, and in Izmailovsky Park. Be ready to leave your passport as a deposit. Another option is to book a tour in English.
All rights reserved by Rossiyskaya Gazeta.