Moscow: Old order getting swept away by energetic youth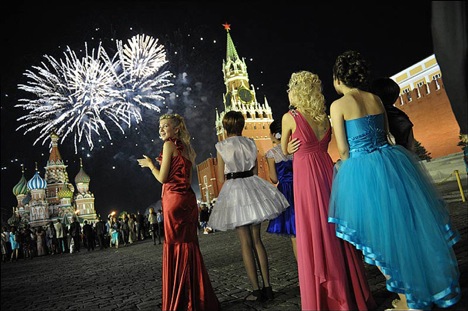 Youthful energy is sweeping across Moscow. Source: Alexey Miridonov / Kommersant
The Russian capital is rapidly changing and as a new confident and internationally-exposed generation comes of working age, old mentalities are vanishing.
Those of us who have been associated with Russia for a long time remember the "good old days" when the concept of decent service in Moscow was as alien as baseball. There were several not-so-pleasant vestiges of the Soviet past even a few years ago. These "universal truths" of Russia are fading away into oblivion. Make no mistake about it; the Russian capital was still a fun place when it was unpredictable, especially if one had a good sense of humour. Now, however, as more young people enter the workforce, the city is starting to feel more international in mentality and outlook.
Right from the international airports, where passport control is increasingly being manned by pleasant 20-somethings, to the city's cafes and restaurants, where there seems to genuine service with a smile, Moscow is changing for the better.
A few years ago, international guidebooks would warn foreigners about policemen stopping them on the street for document checks. They'd usually find some kind of fault with the visa and registration papers in hope of some kind of bribe. Since I looked look like a student, I was never stopped by a policeman. But now, they apparently leave Russians and non-CIS foreigners alone, or so I hear. The police are better paid and have much nicer uniforms and more reforms are coming within the force. Yesterday as I was walking towards an escalator at an almost empty Mayakovskaya metro station, three policemen stopped me for what I was sure would be some sort of document check. The vigilant cops, instead, just wanted to point out that one of the zips in my backpack was open! This came with a "be careful in Moscow" statement in English!
Travelling in the metro during non-peak hours is also a great way to people-watch. With a reasonably good WiFi, a large number of commuters seem to be on their tablets. One major difference I noticed between 2003, when I first used the metro, and now is that people are no longer eager to avoid eye contact with strangers. Improved living standards, greater international exposure and increased safety in Moscow have brought about a more relaxed side to metro travellers. While the announcements in the train and the maps at the station are only in Russian, the newer trains have an electronic indicator with the name of the next stop in English as well. It's a baby step but welcome none the less.
For those missing the good old Soviet days, I would recommend a ride on the elektrichkas or suburban trains, affectionately called "dogs" by Muscovites, since they travel back and forth all day. These trains still have the old Soviet feel and depending on the mood of the driver, the name of the station may or may not be announced. God forbid if someone can't read Russian. Many of the trains don't have relevant maps inside either; a relic of the "that is your problem" days in the country. Those travelling to major stations from the outskirts of Moscow can longer even dream of travelling ticket-less. The electronic machines scan the bar code and the stations are stacked with security guards. Spring Sundays are good occasions to see middle class Muscovites travelling to their dachas for gardening and growing vegetables. Of course the conversations on board the trains vary from yesteryear. I overheard all kinds of discussions from how to secure long-term Schengen visas before things get to a new low between Russia and the EU, to the importance of Orthodox Christianity in the country.
The biggest changes are visible in the city when it comes to service culture. Of course there are still four-star hotels in the city, where mean-faced security guards ask visitors of hotel guests to register themselves at the reception before going to the room. But these kinds of places are vanishing off the horizon in Moscow. This morning at a popular café in the city centre, a pleasant waitress asked me in impeccable French if I was Algerian (There's a first time for everything!) I told her that I was from India and she complemented my French before we switched over to Russian. The friendly young lady is studying French and Arabic and wants to be a Maghreb specialist and maybe even a diplomat in North Africa. She's from a small town near the Urals and like many first generation Muscovites is pursuing the dream where the capital launches their international careers. Across the city, the young and enthusiastic are changing the dynamics of Russian service culture. It's a welcome change from the days when people used to almost be afraid to go to a corner shop.
The days of isolationism are long gone in Moscow and with greater travel opportunities for young Russians and a growing sense of wanderlust and a need to be international; it's only a matter of time before the old guard is completely gone. The new, energetic and open-minded Moscow is here to stay. Meanwhile we can all enjoy a story about the good old days in written form or from personal accounts.
All rights reserved by Rossiyskaya Gazeta.